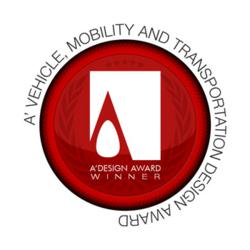 Best transportation design concepts will be given the Platinum A' Design Award.
Como, Italy (PRWEB) January 11, 2013
Today, A' Design Awards and Competitions have announced their call for submissions for the 2013 Edition of the Transportation Design Awards. Industrial designers and vehicle manufacturers worldwide are called to submit their designs until February, 28 2013. The competition is open to submissions of innovative and hybrid vehicle designs, new mobility projects and eco-sustainable transportation concepts.
About the Transportation Design Awards
The theme of the 2013 Edition of the Transportation Design Awards has been announced as "Hybrid". Designs that demonstrate usage of hybrid energy sources will be given special credits. Submissions will be evaluated on the basis of form, functional and emotional aspects. Furthermore, submitted projects will be also considered for their energy efficiency, environment friendliness and ergonomic factors. Entries will be evaluated by a highly qualified jury panel composed of designers, academics, entrepreneurs and media editors. Results of the competition will be announced on April, 15 2013. Automobile designers, design studios, engineering offices and vehicle manufacturers are all called to participate in the awards by submitting their works. Entries to the competition could be made online from A' Design Awards website at http://www.adesignaward.com and further information regarding the competition could be obtained from http://www.transportationdesigncompetition.com
About A' Design Awards
A' Design Awards is a premier annual juried design competition that honors the best designers, architects, engineers, design studios and design oriented companies worldwide to provide them publicity, fame and recognition. A' Design Award and Competitions are organized and awarded annually and internationally in a wide range of categories. More information regarding the A' Design Awards could be obtained from: http://www.whatisadesignaward.com