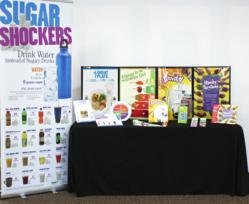 Owatonna, MN (PRWEB) January 11, 2013
Health Fairs are a great way to introduce new topics, share nutrition information, and encourage healthy habits. Many schools, healthcare facilities, and other organizations host health fairs to increase awareness of the benefits of eating healthy and exercising. Event planning can be time consuming and stressful, so LZX has developed a convenient kit for individuals looking to host a health fair of their own.
This Do-It-Yourself Health Fair Kit offers a variety of nutrition education resources for up to 200 participants. Appropriate for all ages, this kit covers a wide range of topics including sugary beverages, portion size, USDA MyPlate guidelines, and overall health and wellness.
Contents include posters, handouts, stickers, bookmarks, tri-fold brochures, and more. Visit the LZX Health Fair page to learn more about this kit and to view additional nutrition education resources.
If customers have a specific theme and age group in mind, they are invited to contact Learning ZoneXpress for help selecting products specific to those needs.
About Learning ZoneXpress
Learning ZoneXpress, based in Owatonna, Minn., is a leading source of award-winning nutrition education tools. Its mission is to help improve the health and vitality of children by providing relevant, creative and affordable learning tools about healthy behaviors and nutrition. Learning ZoneXpress offers a wide variety of educational products including posters, handouts, videos, games and lesson plans. For more information about Learning ZoneXpress health fair products, visit http://www.learningzonexpress.com or call Mary Beth Anderson at 888-455-7003.