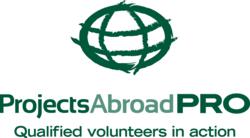 Volunteering abroad allows you to completely immerse yourself in the local culture of your location.
Brighton, UK (PRWEB UK) 11 January 2013
For many, the festive season is a time for giving and sharing. Christmas and the New Year are also a time when many decide they need a break from their day-to-day lives, so it's no wonder that an increasing number of people are volunteering abroad over the holiday season, and some organisations are reporting an increase in project uptake of as much as 50% in the months of December and January.
Projects Abroad PRO offers volunteering opportunities around the world for anyone interested in using their skills to help some of the poorest communities or in developing your knowledge of another country.
And they are proving that this kind of volunteer work's not just for gap-year students. Two retired British volunteers, both keen gardeners in their sixties, chose to participate in a conservation project as they were both interested in seeing and learning about organic farming in India.
"Our first task was to visit a banana farm and apply liquid organic fertiliser (made from cow urine, cow dung, jaggery and lentil flour) and some vermcompost to each plant. This is done on a monthly cycle for this farmer. The soil was very wet and sticky and stuck to our shoes; unlike the local staff, who were all barefoot! Because of the rain, school for our host family's daughter was cancelled for the day – the building needs some repairs and can't be used if it rains," they explained.
"A typical day is divided into three shifts: 6.45am to 8.30am, 9.30am to 12.30pm and 2.30pm to 4.30pm. The first shift is cool and pleasant – it is just after dawn and not yet hot. During our second session we were given an introduction to the aims of the model farm, which is to promote bio-diversity and to maintain/reintroduce threatened plants and animals."
"[Later] it was prayer time and the Hindu members of staff gathered in front of their tools, books and a variety of food for Pooja. In only one week, we have seen and done so many things – we have learnt about many new techniques and theories and have found it all fascinating. Volunteering abroad allows you to completely immerse yourself in the local culture of your location."
About Projects Abroad PRO
Projects Abroad PRO is the skilled and qualified arm of volunteer organisation Projects Abroad, designed for professionals, graduates and retired seniors who would like to volunteer in India or other countries around the world. Anyone with experience in medical work, education, business development, the environment, engineering or social work will be able to contribute and make a difference to some of the poorest communities in the world.