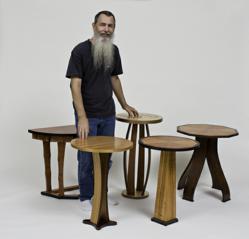 Marr believes the use of veneers makes both good business and environmental sense.
Irvine, CA (PRWEB) January 16, 2013
In an effort to help preserve the world's rapidly dwindling exotic hardwood supply, many woodworkers practice the artful use of veneering. Like an artist with a pallet of oil colors, master craftsman David Marr has carved out a niche using a wide variety of exotic hardwood veneers to create heirloom quality furniture for his clients.
When Marr isn't making custom furniture, he's making beautiful music as a professional jazz musician whose accompaniments can be heard on over twenty national CD releases over the last 35 years.
For Marr, a resident of San Diego, California, making music is much like woodworking – he does both by mainly "by ear."
"Unless it's a specific design requested by a client, I never do any drawings before starting a woodworking project," said Marr, whose award-winning veneered furniture has been featured in countless galleries and shows throughout the US. "I just get an idea, and I go straight to my shop and create it."
Marr believes the use of veneers makes both good business and environmental sense.
"Not only are exotic hardwoods more difficult to obtain, they are becoming increasingly costly," he says. "Using veneers helps to save this precious resource, since you can get so much more useable material through the veneering process."
Marr uses a number of different exotic hardwood veneers for his highly sought-after pieces, but among his favorites are Honduras Mahogany, Macasar ebony and various Burls. "I'm also set up to mill my own veneers by resawing various hardwood materials to a scant 1/16th inch using a Laguna Tools Band Saw," he added.
After carefully choosing just the right exotic hardwood veneers for a given project, they are turned into furniture – from wine cabinets to dining room tables and chairs – he calls "functional art" that can fetch between $1,200 and $12,000 per piece.
As for the style of work he creates, he's admits that's a little tougher to pin down. "I love everything from art deco to Scandinavian style furniture reminiscent of the 50's and 60's," says Marr, who has played with such jazz legends as Charles McPherson and John McNeil. "The bottom line is that I build, because I love building. And I play music, because I love playing."
Marr has a lot of faith in his craft, since he creates and inventories up to 25 original works at any given time simply on speculation. "I have many clients who follow the work I'm posting on my website, or displaying at shows and various galleries. When they see something they love, they snap it up – or ask me to build something like it."
The award-winning woodworker has a small, but efficient shop he utilizes for his business, David Marr Designs. It consists of a Laguna Tools 16-inch Heavy Duty Band Saw, a Laguna TSS sliding Table Saw and a 12" Jointer planer that he also purchased from Laguna Tools in Irvine, California.
"Companies such as Laguna Tools are very interested in helping small shops like mine succeed," he said. "It's just the nature of the woodworking industry… to do everything they can to promote artists like myself who are also environmentally sensitive to the world's hardwood shortage."
For more information about Marr's designs, and photos of some of his creations, go to http://www.LagunaTools.com.
Laguna Tools, based in Irvine, California, has been leading the industry in woodworking innovations for more than 29 years and continues to challenge the industry with new advancements and innovations. Laguna Tools builds and markets a wide range of woodworking tools, from small tools to CNC. At Laguna Tools, we aspire to be "globally local" by investing our time, support, products and services into many community outreach programs. For more information on the Laguna Tools quality line of performance products, please call 1-800-234-1976 or go to http://www.lagunatools.com.