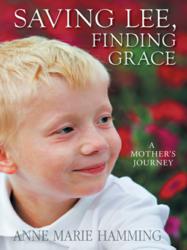 I felt compelled to write Saving Lee, Finding Grace because I knew many families go through similar challenges, but few people get the opportunity to write about their situations
GRAND RAPIDS, Mich. (PRWEB) January 14, 2013
Imagine building a perfect life. Now imagine having to walk away from it all.
Author Anne Marie Hamming faced that challenge. Her son's deadly illness deconstructed nearly everything she thought she wanted in life. But that was only the beginning of the story. His recovery following a full bone marrow transplant reshaped her life and transformed her heart.
In elegant narrative, Hamming gently carries readers through the experience of nearly losing a son and getting him back. She writes honestly about the tension between career and family, major medical crises and reuniting siblings after dramatic changes. Similar challenges face a number of families, with U.S. Labor Department numbers showing nearly three out of four mothers are in the work force.
"I felt compelled to write Saving Lee, Finding Grace because I knew many families go through similar challenges, but few people get the opportunity to write about their situations," Hamming said. "People would ask me how I made it through. I decided to write about how I not only made it through but also how I found deep joy and purpose. Now I wouldn't give up those experiences for anything."
Hamming wrote the book to inspire people to look at their own disappointments with gratitude for the things they still have and the lessons they can learn from unanticipated change. Her book offers readers an alternative view of success and provides an example of ways to be happy and gratified despite the stress that comes from raising a family amid great challenges.
"My readers keep saying there is something in this book for everyone," Hamming said. "Once they start, they don't want to put the book down."
Saving Lee, Finding Grace
By Anne Marie Hamming
Hardcover: $27.99, ISBN: 978-1-4772-6647-2
Softcover: $16.95, ISBN: 978-1-4772-6646-5
Available at http://www.amazon.com, barnesandnoble.com, authorhouse.com
About the author:
Anne Marie Hamming is a mother, writer, life coach and former daily newspaper journalist who resides in Middleville, Michigan with her children, Katie and Lee. Saving Lee, Finding Grace is her first book. She is an active supporter of Be the Match, which supports the bone-marrow transplant process, and the Juvenile Diabetes Research Foundation.