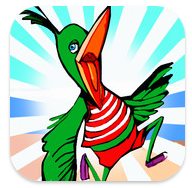 The 'Lazy Bird' iTunes app is bursting with fun and exciting elements to delight a child's imagination!
NY, NY (PRWEB) January 15, 2013
Apps on Tapp has named the iPad/iPhone interactive adventure story app 'Lazy Bird' among the top 5 apps for children. The adventure was given 5 stars and a recommendation for families to consider adding the tale to their collection of favorites.
The 'Lazy Bird' is available for iPad and iPhone and is available on iTunes store for only $2.99: click here to get it.
"I loved the story, animations, music and sound effects. They all come together to keep children interested. Pairing the drawings with real background images is ingenious and brings life to the book," said Angie of Apps on Tapp.
The developer and children's book author, Tatyana Mironova, sought to create an engaging story with a positive message parents and children alike could appreciate.
Not just an eBook, the story takes advantage of the power of the mobile devices, incorporating animations and interactivity kids love.
"Finding out that kids are connecting with it and love it is what makes it all worthwhile," said Tatyana Mironova, developer, adding "Being named among the best kids apps is amazing, I'm just grateful to be able to be storytelling and making kids laugh and smile."
The 'Lazy Bird' offers three modes:

Read to me -- A 9 year old girl professionally narrates the story aloud
Read it myself -- Allows children to turn the pages and read along as if this were a traditional book
Record your voice -- Let's the user record their own narration, acting out the story in their own manner
With parents downloading 27.2 apps per family average each year, according to Financial Times, storybook apps such as 'The Lazy Bird' are both popular and deemed to be exciting for children.
The interactivity of these applications makes them not only engaging and fun, but also allows developers to push the boundaries of how a reader participates in the adventure.
"I try to tell a wholesome story with a positive message that parents can enjoy with their family. Then we try to fill it to bursting with fun and exciting elements to delight a child's imagination!" said Tatyana Mironova.
Taking advantage of the technology and features an iPad or iPhone offers to storybook authors is sure to be great news for the kids that get to enjoy the results of this digital story revolution.
About Lazy Bird:
Rated Top 5 kids storybook for iPad and iPhone, 'Lazy Bird' offers a wholesome message, exciting adventure and interactivity sure to delight parents and kids alike.
Available now via the Apple AppStore, click here to find out more: https://itunes.apple.com/us/app/lazy-bird/id524743398