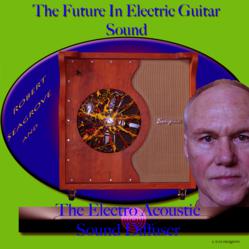 Unique Electric Guitar Tone
(PRWEB) January 15, 2013
"Loud speakers have always been a great interest and curiosity of mine" says Robert Seagrove. "This goes back many years while gowing up in a neighborhood of amateur and professional musicians and a desire to be a professional guitarist since the age of five." In 1973 Robert won a Canadian Manufacturers Association Technical Scholarship, in graduating from Winston Churchill Collegiate. The scholarship was in part due the redesign and construction of the original Electro-voice Eliminator. In 2012 Robert has again redesigned and reconstructed a folded horn speaker currently in use at Neptune Sound Studio.
To an electric guitarist or instrumentalist, a speaker is the voice. The cone driver and enclosure result makes or breaks the sound of an instrument. In 1971 at the age of sixteen Robert, with money made from playing gigs, delivering papers, some birthday cash from his parents, went and bought a Marshall Super Lead 100 amplifier. This move had been prompted by the disappearance of his coveted 60's Fender Super Reverb amplifier. It had just been stolen from the band's rehearsal space.
"Marshall Super Lead 100's in particular sound great and are well known for being sonically loud. The sound from matching Marshall 4X12 speaker cabinets are directional and can be ear deafening" says Robert Seagrove. "One may ask, Why not just use a smaller rig? The simple answer is that physics dictate that there is nothing that sounds like a Marshall Super Lead 100. The Electro Acoustic Sound Diffuser solves directional loudness problems to an extent without sacrificing tone." Robert continues, "The Electro-Acoustic Sound Diffuser also has a unique sound. Some guitarists are plagued with the use of various pedals to color and fatten up their sound. The EASD delivers a controllable variety of sounds that don't suck tone from the instrument and amplifier. It also doesn't add unwanted noise associated with electronic pedals because the EASD isn't in the electronic signal path." The Electro-Acoustic Sound Diffuser was used exclusively on Robert Seagrove's new record "Art of Diffusion".
A few years ago, while the Electro Acoustic Sound Diffuser was in development, Robert contacted Jeff Long, Long and McQuade Music. Jeff arranged a staff demonstration at the flagship store on Yonge Street in Toronto. The demonstration went extremely well with a curious audience while some of the staff tried the speaker out. Jeff Long and Robert Seagrove discussed a possibility of retailing the speaker. Around the same time information about the Electro Acoustic Sound Diffuser was sent out to a number of guitarists which included Les Paul and Jimmy Page.
Concentrating on projects at Neptune Sound Studio, hasn't left much time for Robert Seagrove to do live shows. Plans for some this year are in the works.