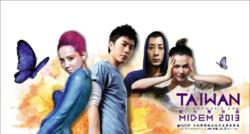 GCA Entertainment's seminar will illustrate to attendees how to use the Taiwanese market as a "Gateway" into the China
(PRWEB) January 12, 2013
Sponsored by Taiwan Ministry of Culture, Taiwan-based music company GCA Entertainment will be presenting a seminar entitled "French & Taiwan Superstars Paving The Way To Asia's Largest Music Market" at this year's edition of Midem in Cannes on January 27th. The seminar will feature industry experts and major artists Jean Michel Jarre and Jolin Tsai, presenting case studies of innovative technologies that enhance artists and production companies' abilities to create and sell their work and products in the Chinese & international market.
"French & Taiwan Superstars Paving The Way To Asia's Largest Music Market"
Conference + DJ show + Cocktail Reception
Date: January 27, 2013
Time: 17:50 -18:30
Location: Innovation Factory, Palais des Festivals, MIDEM
Taiwan has been the leader in China's music business and creative trends. When K-Pop started developing its products to suit the Chinese consumer's tastes, it turned to the Taiwanese market. GCA Entertainment's seminar will illustrate to attendees how to use the Taiwanese market as a "Gateway" into the China. a-Peer will also unveil its innovative multimedia sales platform, which protects rights and guarantees all royalty payments as copyright holders expand internationally. As such, the conference will highlight key business issues and strategies - the "What", "Where" and "How" - of creating success in China's music business.
The conference will also present case studies focused on two international superstars: award-winning Taiwanese singer Jolin Tsai, who will be performing in Paris that month, and France's Jean Michel Jarre, who was the first Western musician to be allowed to perform in China. They will be presenting their experiences and insights in collaborating with Chinese and Taiwan professionals in music production and performances, as well as announcing plans to collaborate on large-scale & unique performances throughout Europe & Greater China area as part of Jean Michel Jarre's Oxygen project.
Additional speakers at the seminar include:
Moderator: Eric de Fontenay (USA), Founder of MusicDish*China
Ed Yen (Taiwan), Chief Creative Officer of a-Peer Culture & Technology Co., Ltd.
Bill Zang (China), Vice President of Shanghai Synergy Culture & Entertainment Group
Iggy Strange-Dahl & Hayden Bell (Sweden/Australia), Founders of The Kennel
Mark Berry (Canada), President of Attack Media Group
In conjunction with Midem in Cannes, Taiwan has selected amongst its most established as well as promising musicians to bring to Paris for a unique performance. This year's "Taiwan Music Night" showcase will be held at Le Trianon in Paris on January 30th and Asian queen of pop - Jolin Tsai, William Wei - considered Asia's Jason Mraz, and a new breed of electronica from Salamander.
About GCA Entertainment
GCA Entertainment, an innovative music and technology company, has a rich set of resources and practical insight into China's Music industry. It provides international marketing and technical services to music companies seeking effective and profitable access to the Greater China market. GCA Entertainment was founded by veteran music executives, advanced IT experts, and experienced international business professionals whose mission is to advance Mandarin Music internationally. GCA Entertainment's key operations consist of music content licensing, international performance management, brand development, audio and video software development as well as event and showcase planning and execution.
Contact Info: Jean Hsiao Wernheim, jean (at) a-peer (dot) com, +46705615257
Eric de Fontenay, MusicDish, chinasounds (at) musicdish (dot) com, +1-718-278-0662