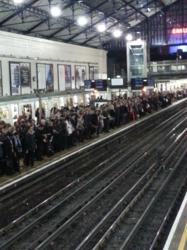 Snapshot taken by Christopher Tansley at rush hour in London. Just a regular day for the seasoned commuter…
(PRWEB UK) 15 January 2013
With the increasing cost of rail fares and more delays predicted for the road networks, workers are turning their back on the gruelling rush hour commute in favour of becoming their own boss and using those precious lost hours for more fulfilling activities or spending more time with family.
It must be a bitter blow to commuters to hear that for the tenth year running rail fares are increasing more than inflation, with the average cost of a season ticket increasing by 4.3%. It's officially cheaper to travel by car than train but even for those who get behind the wheel, they are also faced with unsavoury statistics regarding their chosen mode of transport.
The RAC Foundation predict that traffic delays will increase by 25% by 2025, this is on top of the fact that according to the Highways Term Maintenance Association, road traffic congestion costs the British economy approximately £20billion each year in wasted time, resources and lost business.
Christopher Tansley, founder and consultant for FranchisingMatters.com comments, "For most, commuting is an unfortunate necessity and you could say that not everyone has a choice in the matter, but that's not strictly true. We all ultimately hold the power to our destinies and when you are talking work and avoiding those valuable and misspent hours on the road and rails, life changing decisions can be made.
Christopher continues, "City executives are choosing to become their own boss by investing in franchise business brands where they have more control over when and where they work. 80% of all franchise business candidates in 2012 came from busy city based jobs with a vast number citing 'wanting to spend more time with the family' as one of their motivations."
Running your own business is undoubtedly hard work, however, you have control over your working environment and the hours you operate. The home office set up is popular and perfect for those with service and management franchise businesses. Or for those deciding on a local territory business then they can opt for an office close to home.
Perhaps being your own boss isn't something you've considered before but you're interested in finding out further information on how you go about investing in a franchise business and what business opportunities would suit your skills and experience, contact FranchisingMatters.com today on 0844 3102611.