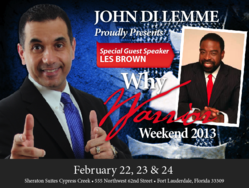 "The 2013 Why Warrior Weekend promises to change lives and businesses forever. Will YOU be one of those lives?" - John Di Lemme
(PRWEB) January 12, 2013
International Motivational Speaker and Strategic Millionaire Business Coach John Di Lemme has announced that the Why Warrior Weekend is slated for Feb. 22, 23 and 24, 2013. The event will take place at the Sheraton Suites Cypress Creek, located at 555 Northwest 62nd Street, in Fort Lauderdale, FL.
Seating is limited to the first 200 registrants. There are only 47 tickets remaining. The event fills up quickly and early registration is encouraged. Seminar materials will be provided. Tickets for the event are $97. To register or for more information, call (888) 567 – 0717 or email Team@LifeStyleFreedomClub.com.
One of the featured speakers for the event is the Motivational Master Les Brown. As one of the world's most renowned motivational speakers, Les Brown is recognized around the world for motivating the masses and expanding opportunity. For decades, he's strived to master the science of achievement by interviewing hundreds of leading authorities and collaborating with CEOs, non-profits, and businesses thus creating measurable results for clients. Les Brown is absolutely one of the best speakers and motivators in the industry.
Also appearing will be International Motivational Speaker and Strategic Millionaire Business Coach, John Di Lemme. He's the founder of Di Lemme Development Group, Inc. a company known worldwide for its role in expanding the personal development industry. He's produced over 450 products, authored thirteen books, and been featured on numerous interviews. Di Lemme is one of the most highly sought after strategic business coaches in the world due to the success of his Millionaire students and their businesses.
Special guest speaker Dr. Christa Krzeminski is returning again this year to the Why Warrior Weekend. One of Dr. Christa's biggest accomplishments is the creation of her weight loss programs - The Good Choice Diet for adults and Kids That Lose Win for kids and teens. She has worked endlessly on gathering the most useful tools, products and support necessary for healthy, quick and sustainable weight loss. Inspiring others, helping individuals realize goals and seeing wonderful people reclaim their confidence is the driving force behind the creation of these incredible programs.
Speaker Tony Rubleski has been featured in various media outlets ranging from Bottom Line Magazine, The Detroit Free Press, the FOX TV network, ABC, to CNN Radio, NPR and Entrepreneur Magazine Radio. In addition, he's given hundreds of presentations over the last decade, which continues to receive rave reviews from around the world. He is also the host and creator of the Inaugural Think and Grow Rich Summit 2013 which will be held in Del Mar, California.
Magician and Humorist Matt Fore spends much of his time on the road as the featured entertainer for many corporate functions, church-wide events, sports evangelism celebrations, banquets and conventions. He has performed on Carnival Cruise Lines and was an opening act for Crystal Gayle. He has appeared in a music video with Taylor Swift and has performed on several national TV Shows including the Crook & Chase show on TNN, Fox Sports and The Dennis Swanburg Show. He has also performed numerous times at the famed Magic Castle in Hollywood California.
Founder of the Boca Real Estate Investment Club, David Dweck is an active Real Estate investor, licensed Realtor and licensed mortgage broker. He's been featured on CNBC, Forbes, Wall Street Journal, Bankrate.com, Investor's Business Daily and Fortune Magazine. He received Northwood University's Excellence in Entrepreneurship Award. He's also on the board of directors for the Caring House Project Foundation.
Accommodations for the event have been secured for attendees at the rate of $129 per night. For more information, visit the website at http://www.WhyWarrior.com.