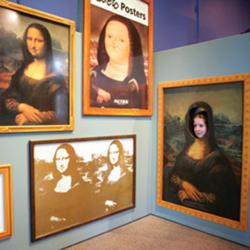 Step inside the framework of famous paintings and experience art like never before in Framed: Step into Art™
Norwalk, Conn. (PRWEB) January 17, 2013
Stepping Stones Museum for Children, an award-winning children's museum in Norwalk, Connecticut, is playing host to a new traveling exhibit that will help visitors connect with art on a whole new level. Framed: Step into Art™ is an interactive art experience that allows visitors to physically enter a painting, inviting them to interpret and express what they think and feel about art.
By entering through an over-sized frame to get to this special exhibit, visitors will become a part of the artwork. Each painting is re-created as a three-dimensional, sensory, walk-in environment that includes a print of the artist's original work, as well as important facts about their life and painting style.
There are four featured works that allow visitors to become part of the scene: Dinner for Threshers by Grant Wood, Camp at Lake O'Hara by John Singer Sargent, Big Chicken by Clementine Hunter, and Corn Festival by Diego Rivera. Each life-size reproduction features fun, hands-on activities for children and families to help them observe and think about the patterns and details of the paintings. Part of the exhibit also gives visitors the chance to curate their own art gallery by choosing which pieces to include in their gallery and where to place them.
With interactive and fun family activities, the exhibit aims to build the foundation for a lifelong interest and appreciation for art. Children can gain an understanding and are encouraged to make a personal connection. Framed: Step into Art™ supports the National Standards for Art Education, and was created by the Minnesota Children's Museum for the members of the Youth Museum Exhibit Collaborative (YMEC). The exhibit will continue at Stepping Stones through May 12, 2013.
About the company:
Stepping Stones Museum for Children in Norwalk, Conn., is an award-winning, private, non-profit 501(c)(3) children's museum committed to broadening and enriching the lives of children and families. Located on five acres in Mathews Park, the LEED Gold certified museum encompasses five hands-on galleries, state-of-the-art Multimedia Gallery, Family and Teacher Resource Center, cafe and retail store. For more information, please visit their website at http://www.steppingstonesmuseum.org.