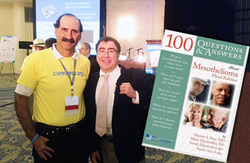 NEW YORK, New York (PRWEB) January 11, 2013
The book 100 Questions & Answers About Mesothelioma recently published its Third Edition. This user-friendly guide to virtually all aspects of mesothelioma has long been popular among patients and family members battling against this asbestos-caused cancer. The Third Edition is once again authored by Dr. Harvey I. Pass, a world-renowned thoracic surgeon and mesothelioma researcher. The Third Edition, however, is also co-authored by Mary Hesdorffer, NP, a long-time mesothelioma nurse practitioner in New York City, who is now affiliated with Johns Hopkins University and the National Cancer Institute. Nurse Hesdorffer is also the Executive Director of the Mesothelioma Applied Research Foundation, the leading non-profit organization seeking a cure for mesothelioma.
In the Third Edition, the authors thank "Bob Komitor for his insights about the legal aspects of mesothelioma." Bob Komitor is an attorney specializing in obtaining compensation for mesothelioma patients and their family members. Mr. Komitor and his firm, Levy Phillip & Konigsberg LLP ("LPK"), have been handling mesothelioma cases for over 25 years and have won landmark verdicts and significant settlements on behalf of mesothelioma victims. Bob is particularly proud of LPK's long-time (over many decades) support of the Mesothelioma Applied Research Foundation which included the firm's sponsorship of the first ever New York City Mesothelioma Conference last year.
The Third Edition of the 100 Questions & Answers About Mesothelioma book is organized, as the title suggests, in a question and answer format. Questions 1 through 7 address "The Basics" of mesothelioma including what the disease is, its cause (asbestos) and how it can be prevented. Questions 8 through 19 discuss important issues relating to "Diagnosis". Questions 20 through 23 address "Coping" with the disease including psychological, social, and financial support. Questions 24 through 32 discuss legal aspects of mesothelioma including the importance of contacting an attorney as soon as possible. Questions 33 through 61 address "Treatment" and questions 62 through 71 address "Decision Making" on how to decide between treatment options. Questions 72 through 86 detail "Effects of Therapy" including how to relieve pain, as well as issues relating to diet and exercise. Questions 87 through 89 discuss "Recurrence of the Disease."
It is Questions 90 through 97, however, that may resonate most strongly with families affected by mesothelioma. These questions and answers contain insights from a wife and daughter (Sarah E. Lake and Sarah A. Lake) of a mesothelioma patient who survived the disease for 10 years. The insights of the Lake family are invaluable for families providing love and support to a mesothelioma patient.
The attorneys at LPK believe that the information contained in the 100 Questions & Answers About Mesothelioma, Third Edition, is so valuable that it includes the book in the materials provided to all new clients of the firm. For more information, please contact Bob Komitor or any of the dedicated asbestos lawyers at LPK at 1-800-637-6529 or visit http://www.levylaw.com.