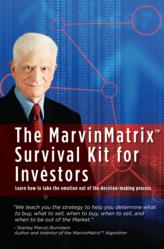 We teach you the strategy to help you determine what to buy, what to sell, when to buy, when to sell, and when to be out of the Market.
Overland Park, KS (PRWEB) January 15, 2013
Stanley Marvin Burnstein, author and Inventor of the MarvinMatrix ™ Algorithm, has now fine-tuned his 7-year research and developed an easy-to-follow formula which is available in "The MarvinMatrix™ Survival Kit for Investors."
"We teach you the strategy to help you determine what to buy, what to sell, when to buy, when to sell, and when to be out of the Market," says Burnstein, who is also founder of MarvinMatrix™ Publishing, LLC.
The formula is a three-step process for analyzing individual stocks. The first step measures the upside potential. The second step measures the downside risk. The third step measures the investor's ability to deal with the emotional stress of staggering decreases and withstand the temptation to sell a stock at the wrong time.
Burnstein is a stock market contrarian and teaches how to analyze stocks. He encourages investors to resist the temptation to follow the herd and to think more like one of the best-known value investors, Warren Buffett. Burnstein also subscribes to the philosophy of Benjamin Graham and believes in analyzing the fundamental value of each stock. Based on Burnstein's own investment success story, individual investors have much to gain by learning his stock market strategy.
The "Marvin Matrix™ Survival Kit for Investors" is available at MarvinMatrix.com, or it can be purchased directly from Amazon.com.
In "The MarvinMatrix™ Survival Kit" Stanley Burnstein discusses the following questions:

With all the economic problems there are in the world, why would any rational person want to invest in stocks?
Why is The MarvinMatrix technique, which evaluates stocks, better than buying mutual funds or index funds?
How does the MarvinMatrix 3-step process for evaluating stocks work?
Why would a contrarian investing strategy like this, outperform other strategies?
Why should investors learn how to make their own decisions? Why not just tell them what to buy?
What is important that Benjamin Graham and Warren Buffett have taught us and why is their investing philosophy so worthwhile?
Are there categories of stocks that Warren Buffett would not choose that investors should take a look at? Why are they interesting?
Packed with invaluable stock analysis tools, "The MarvinMatrix™ Survival Kit for Investors" is your ticket to portfolio perfection, in bull, bear and sideways markets alike. This book is available at Amazon.com. For more information about Stanley M Burnstein, visit MarvinMatrix.com
For an interview with Stanley Burnstein, please contact Darlene March, 714-887-8021 or email darlene(at)marchmediarelations(dot)com.
About the Author
Stanley Marvin Burnstein has been advising clients on financial matters for over 30 years, first as a CPA, and later as an attorney. He has personally been a stock market investor for over 40 years. He has developed an algorithm that he has found useful in his own investing, and now makes it available to others at a free website, which he describes in his book. The book is especially useful during times of stock market and economic uncertainty. His book acts as a coach to readers in helping them avoid serious financial mistakes. His book, "The MarvinMatrix™ Survival Kit for Investors" provides a common-sense approach to making money in the stock market, for investors at all levels. He has appeared on radio and television and before financial organizations, presenting his energetic, plain-English approach for achieving financial success.