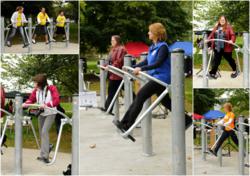 Tacoma, WA (PRWEB) January 11, 2013
Communities looking to activate their citizens and help fight the obesity epidemic may have just received the boost they needed. KOMPAN, Inc. has announced a new park gym grant program called Ready, Set, GO! that provides outdoor fitness equipment grants of $2,000 in in-kind product donations to qualifying communities.
These outdoor fitness equipment grants will be awarded to projects that can prove community need and have secured funding from additional sources. To apply for a Ready, Set, GO! playground grant, visit http://www.kompan.us/Ready_Set_Go_2013_X-ERCISE_Grants and submit a letter of interest. Application deadline is March 31, 2013.