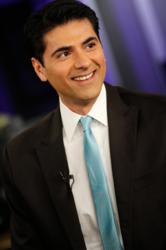 A pap smear is one of the most important things that has happened in women's health.
Beverly Hills, CA (PRWEB) January 11, 2013
A weekly guest on the popular news program FoxLA, Sonu Ahluwalia, MD, offers viewers invaluable information about a wide variety of health subjects ranging from orthopedic surgery to overall health and wellness. This Monday, the Los Angeles-based physician spoke about the costs associated with unnecessary medical testing, specifically pap smears in women who have undergone hysterectomies.
"A pap smear is one of the most important things that has happened in women's health," said Dr. Ahluwalia, a board-certified surgeon in La Peer's Orthopedics department. "From 1955 til now, we have dramatically reduced the incidence of cervical cancer." However, the surgeon goes on to suggest that some women who don't need to undergo regular pap smears are still receiving them.
A standard part of most gynecological exams, a pap smear involves the collection and testing of cells from the outer opening of the cervix. Doctors will then examine the cells for signs of cancer and pre-cancer. According to Dr. Ahluwalia, research indicates that sixty percent of women who have undergone a full hysterectomy, including removal of the cervix, are still having regular pap smears.
"The only reason that a women should get a pap smear after a total hysterectomy is if the hysterectomy was done for cancer," said Dr. Ahluwalia. For women who have undergone a hysterectomy for other reasons unrelated to cancer, a pap smear may be an unnecessary expense. The doctor went on to say that unnecessary medical testing has become commonplace in a number of areas, including testing for prostate cancer and breast cancer.
Still, Dr. Ahluwalia believes that prevention should remain our goal when it comes to healthcare. Overall, the cost of treating cancer far exceeds the price of preventing it through testing.
According to the American Cancer Society, cervical cancer used to be one of the most common causes of cancer death for women in the US. However, the rate of cervical cancer death declined drastically after 1955 due to increased use of the Pap test.
"We have really made a dent in cervical cancer, and we don't want to give that up," Dr. Ahluwalia said. He went on to advise women between the ages of twenty-one and sixty-five to have regular pap smears every three years.
Dr. Ahluwalia also spoke about the new FDA guidelines for preventing food contamination.
"In the past we used to wait until a contamination happened and people got sick," said Dr. Ahluwalia. "Prevention is always better than cure."
According to the doctor, one in six Americans suffers from a food-borne illness each year. Dr. Ahluwalia went on to advise consumers to visit the FDA website and leave feedback regarding the new guidelines.
Watch the entire news segment on My Fox LA.
For more health tips from Dr. Ahluwalia, as well as videos of his FoxLA segments, visit his Facebook page.
Sonu Ahluwalia, MD, is an internationally-acclaimed board-certified orthopedic surgeon at La Peer Health Systems, as well as the Clinical Chief of Orthopaedic Surgery at Cedars Sinai Medical Center in Beverly Hills. His private practice specializes in sports medicine, shoulder, knee and hip surgery.
Dr. Ahluwalia completed his orthopedic training at the Harvard Combined Orthopaedic Surgery Residency Program in Boston, one of the most sought after training programs in orthopaedic surgery. He has completed three fellowships, two at Harvard Medical School and one at Lenox Hill Hospital in New York City, on shoulder surgery, sports medicine, and joint replacement and joint preservation surgery. For more information please call310.659.2910 or visit http://www.Ahluwalia.org.