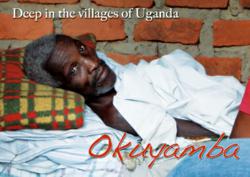 Bring your tissues to this must-see viewing – you'll need them. While inspirational at its core – one can not help but become awakened to the seriousness of the Ugandans plight and moved by the families featured in the film.
Mishawaka, IN (PRWEB) January 12, 2013
Award winning film Okuyamba, is slated to screen at the 29th Annual Long Island International Film Festival.
'Okuyamba,' the Lugandan word meaning 'to help,' focuses on the common mission shared by a small band of palliative care nurses working tirelessly to ease the pain and suffering of AIDS and cancer patients, dying deep in the rural villages of Uganda.
According to a recent review in High Desert Lifestyles Magazine, "This amazingly poignant and touching film will move the audience – heart and soul."
Film crews go deep into the forests of Uganda to offer viewers a glimpse at the astounding challenges facing its terminally ill people while sharing stories of the 90 percent who receive no assistance with pain or comfort in their final days.
"Okuyamba" was released last year and has already won numerous awards, including the Inaugural Morfogen Art of Caring, Indie Fest, Accolade Competetion, Best Shorts and a was a Silver Winner at the Prestige Awards. The film will be screening on Sunday, February 24th at 3:09 p.m. at the 29th Annual Long Island International Film Festival.
The festival is taking place in the Hyatt Regency Long Island at Wind Watch Golf Club, 1717 Motor Parkway, Hauppauge, New York. For more information go to http://www.okuyamba.com or http://www.longislandfilmfestival.org.
# # #