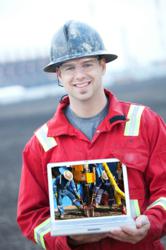 "The oil and gas industry has one of the highest injury rates in the country," said Safety Services Product Development Manager Michael Rich. "This new program is designed to lower that rate."
Tempe, Ariz. (PRWEB) January 14, 2013
Safety Services Company, North America's largest supplier of safety training and compliance materials, has launched a new online training program aimed at educating workers on the hazards of the oil and gas industry.
"The oil and gas industry has one of the highest injury rates in the country," said Safety Services Product Development Manager Michael Rich. "This new program is designed to educate workers on the most common hazards of the oil and gas industry in order to prevent injuries and death."
The new program is launching with 12 titles, and the company will add a new title every two to four weeks. "Our goal is to have more than 20 courses in this program by the end of the first quarter," Rich said.
Launch titles include hydrogen sulfide, drill rig safety, fall protection, excavations, hot work, electrical safety, oilfield trucking, oilfield driver safety, fatigue management, hazard communication, cold stress, heat stress and lockout tagout.
Each title combines video, interactive elements and knowledge assessments to create what Rich calls "the most engaging form of training in the industry."
The titles in the new training program will be delivered to employers through a Learning Management System or LMS. An LMS is an online system that allows employers to upload employee information, assign training, track progress and store certificates.
Learning Management Systems can be accessed by an employee from any device with an Internet connection. In addition to the always-on training component, this allows Safety Services Company to update their clients' training titles instantly.
"In the past if a client bought a training title and there was some type of regulatory change, they would have to buy a new program," Rich said. "With this program we eliminate that worry and extra expense. We update all the titles for no additional charge."
In addition to hosting training online, the system allows employees to print student manuals, teacher manuals, wallet cards, certificates and everything else needed to complete training in the field.
"We understand that sometimes a computer is not available in the oilfield, so we made the decision to allow our clients to print training materials to conduct offline training if needed. There is not another online training company that offers this functionality," Rich said.
The system is being sold on an annual subscription basis with the price based on the number of employees in the system.
For more information on Safety Services Company's new training solution visit http://www.safetyservicescompany.com/oil-gas-lms.php or call 877-427-1503.