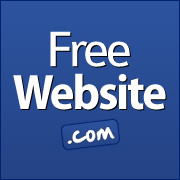 (PRWEB) January 11, 2013
FreeWebsite.com announced today the release of an article about how to design a website. An industry leader in providing low-cost websites, FreeWebsite.com was developed to help people with limited computer skills create and maintain a website.
"If you are a business owner, you absolutely need to have a website," said a FreeWebsite.com representative. "Nearly 90% of internet users shop online for goods and services. If you don't have a website, they can't find you. If they can't find you, they won't be able to give you their business."
"Our design team will show you how easy it is to design a website, maintain it and fill it with the information consumers are looking for," said the representative. "Don't worry if you don't have strong computer skills. Our templates are easy to use, and our staff will help you with any issues you may have."
By using FreeWebsite.com templates, users can design a website that will give them the potential to expand their business well beyond their immediate community. Users can also choose to register their own domain name, making it easier for customers to find them on search engines such as Google or Bing.
To read the article, visit http://www.freewebsite.com/design-a-website/
About FreeWebsite.com: FreeWebsite.com breaks down barriers to website ownership by providing attractive, easy to maintain websites, complete with content, at a low price. To learn more, visit FreeWebsite.com today.