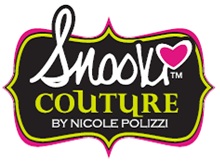 Las Vegas, NV, January 9, 2013 (PRWEB) January 11, 2013
Hundreds of fans stopped by the Zeikos/ iHip Booth at the CES Convention to get a first look at the new "Snooki Couture" headphones and audio accessories by iHip. Nicole "Snooki" Polizzi posed with fans and modeled her new line for buyers and press that is scheduled to hit stores Spring/Summer 2013. With two wildly popular reality shows "Snooki & JWoww" and "Jersey Shore", three books, two perfumes, jewelry, slippers, tanning and sunless lotion lines, body moisturizers, lashes, boots, sandals and smart phone apps under her belt, Nicole "Snooki" Polizzi is now creating buzz in a brand new area combining her love for dancing and house music into her next endeavor in her "Snooki Couture" brand; headphones. "Snooki Couture" by Nicole Polizzi" offers the much-anticipated line of fashion-you-can-hear headphones, ear buds and more in signature Snooki styles and motifs.
"I'm so happy to be back at CES and have my very own line of headphones to add to the Snooki Couture brand. I worked with iHip to design a line that was very me - with sequins, rhinestones, feathers and leopard that doubles as accessories." – Nicole "Snooki" Polizzi.
Nicole "Snooki" Polizzi has officially joined the celebrity head-phone game amongst the ranks of other celebrities such as Lady Gaga and Dr. Dre with her own high-quality fashion audio gear with iHip. Nicole "Snooki" Polizzi' s personally designed fashion audio products and accessories offers not only booming bass and noise-cancelling effects, but also all the personality and attitude of the reality star herself, all tied nicely with a bow of fashionable hair accessories. The "Snooki Couture by Nicole Polizzi" stylish lineup includes never before seen designs in the headphone category. Detachable headbands were created with adjustable speakers for fit and fashion. Feather Earphones and Fashion phone cases are ear-buds that double as earrings with hanging feathers and rhinestone studs available in signature Snooki leopard. The iHip Retro Fashion Phone is available in Swarovski crystal colors to plug into your iPhones and iPads and is available in a high-heel style with red bottoms. Perfect for listeners of any age and savvy-style taste, iHip serves a multi-functional purpose, combining stellar acoustics with tricked-out personalized style. "Snooki Couture by Nicole Polizzi" brings a fresh, super-stylish personality and youthful perspective to her branded line with iHip. The entire line ranges from $24.99 - $59.99, is available at ihip.com and in 2013 at thousands of retail stores to be announced. Follow us @snookisounds for more information leading up to CES 2013.
About Nicole "Snooki" Polizzi
Nicole "Snooki" Polizzi is the New York Times bestselling author of A Shore Thing, Confessions of a Guidette and Gorilla Beach. Famous for her trendsetting pouf hairstyle, her small stature, and her acrobatic moves on the dance floor, she is the breakout star of MTV's Jersey Shore, the highest-rated shows in the network's history. Polizzi's new show "Snooki & JWoww" is currently in its second season chronicling her pregnancy and engagement, her friendship with Jenni "JWOWW" Farley and their lives and loves away from Seaside Heights, NJ. The new mom to Lorenzo has been parodied on Saturday Night Live, appeared on almost every major talk show, and been featured in The New York Times. The constantly expanding "Snooki" by Nicole Polizzi and "Snooki Couture" brands includes jewelry, slippers, sunglasses, tanning and sunless lotions, headphones, phone/tablet accessories, apps, handbags, fragrances, sandals, boots, beauty and hair products. Visit her online at snookinicole.com.
About iHip
iHip has been delivering fashion and function in a variety of audio accessories for well over a decade. The stylish iHip collection just made audio accessorizing even more fun with the most popular sports and entertainment properties! Introducing licensed audio accessories and portable electronics made by iHip! Our licensed brands include the National Football League, Major League Baseball, NASCAR, NHL, CLC, DC Comics, Kraft, Discovery, Marvel Comics, Leif! And Isaac Mizrahi. iHip products can be found at Best Buy, Modell's Sporting Goods and Sports Authorities or online at http://www.ihip.com.