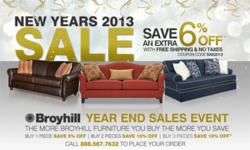 This extended sale has something for everyone, so people can start the year off right with new furniture and extra money in their pockets.
Golden, CO (PRWEB) January 11, 2013
SofasAndSectionals.com, the leading retailer of quality home furnishings online, is happy to announce an extension of their 2012 Year End Sofa Sale on high-end Broyhill Furniture. Customers can continue to enjoy significant savings on Broyhill Sofa Groups, Sectionals and other home furnishings through Monday, January 14, 2013. This gives shoppers an extra weekend to make that important Broyhill Furniture purchase that they have been waiting on. The savings include 5% off the price of one Broyhill product, 10% off two Broyhill products or 15% off three Broyhill products. Customers can also take 6% off the price of most other brands available on SofasAndSectionals.com.
"We are thrilled for the opportunity to extend this promotion through January 14th", said Peter Goldstein, Vice President of Sales for SofasAndSectionals.com. Mr. Goldstein also added, "Our customers have discerning tastes, and to get such high quality furniture at such a good price is an opportunity that cannot be missed. We extended the sale to give more shoppers the chance to cash in on these great deals and start the year on a positive note".
This extended sale covers all of the Broyhill products in the SofasAndSectionals.com catalog. This includes such sought-after collections as the Broyhill Laramie sofa group. This collection combines classic sofa styling with fresh organic curves to create a stunning look that is sure to be the centerpiece of any living room. Another great collection is the Veronica Sectional modular sofa set. This stylish collection features deep comfort and contemporary design that includes desirable features like a full chaise lounge. These and other Broyhill products can be ordered in many different upholstery choices to perfectly fit any room's color scheme.
Customers who are interested in other furniture brands can also benefit from this sale. They can take an extra 6% off almost any other product on SofasAndSectionals.com. This sale includes every brand except for Palliser, Michael Amini or Parker House. "This extended sale has something for everyone, so people can start the year off right with new furniture and extra money in their pockets", added Mr. Goldstein.
Customers need to call (888) 567-7632 to get the discounts on their Broyhill purchase. Friendly and knowledgeable Sales Professionals are standing by to help. Those wishing to get the 6% discount can do it online. Just add SAS2013 to the Coupon Code field on the Checkout page. This discount will be automatically applied to all eligible products.
About SofasandSectionals.com – SofasAndSectionals.com is a division of InteriorMark, LLC, which is the premier online retailer of quality home furniture. InteriorMark's family of e-commerce websites offers beautiful and durable furnishings for every room in the home. InteriorMark, LLC is a member of the National Home Furnishing Association and is an A-rated member of the Better Business Bureau.