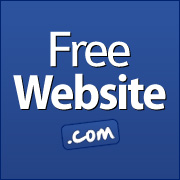 (PRWEB) January 10, 2013
An industry leader in providing low cost websites, FreeWebsite.com was started by CEO Jeff Spicher and two partners to give business owners the ability to get a website using easy to use DIY websites templates at little or no cost.
As Spicher noted, "More and more consumers are spending their money online these days. In fact, nearly 90% of internet users shop online for goods and services. If your business does not have a website, you're missing out on a huge opportunity to gain new customers and increase profits."
FreeWebsite.com's DIY websites templates make it easy for any business owner to create a website filled with the information customers need. If users need help, they have a team of website designers who can answer questions and help make sure one's website creates the professional image you want.
With DIY websites ranging from a simple free template to more elaborate models that increase your online exposure, FreeWebsite.com has packages to suit every business owners needs, all at affordable prices.
To read the article, visit http://www.freewebsite.com/diy-websites/
About FreeWebsite.com: FreeWebsite.com breaks down barriers to website ownership by providing attractive, easy to use websites, complete with content, at low prices. To learn more, visit FreeWebsite.com