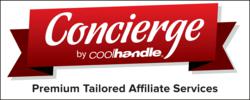 We are thrilled to launch the Concierge by CoolHandle service for Affiliates and Internet marketers!
Los Angeles (PRWEB) January 14, 2013
CoolHandle Web Hosting has announced the launch of their premium Affiliate service, Concierge. Concierge by CoolHandle is a premium tailored Affiliate service which offers a complete suite of services targeted toward Affiliates and Internet marketers.
Concierge by CoolHandle was born from years of work within the Affiliate industry. Concierge allows Affiliate and Internet marketing professionals to focus on work, rather than focusing on the management of their outsourced vendors. Concierge by CoolHandle tailors to all the aspects of online marketing such as technology integration, customized software installers, merchant services, tuned hosting, colocation, customer services and more. Each service has been created and designed with online marketing in mind.
"We are thrilled to launch this new service for Affiliates and Internet marketers! After years of working with Internet marketers, we have seen the issues that outsourcing has caused and want to alleviate those deficiencies so our clients can do what they do best!" Marketing Director, Ryan Morris, states.
For more information about Concierge by CoolHandle, please visit http://concierge.coolhandle.com.
About CoolHandle
CoolHandle, Inc. (http://www.coolhandle.com) Privately held and based in Los Angeles, CoolHandle was founded in 2001 by a team of IT professionals to introduce a new standard in the fast-changing environment of web hosting. With over a decade of web hosting experience on various hosting platforms and operating systems, particularly Linux, CoolHandle brings a wealth of knowledge and the capability to handle any hosting requirements. This experience also comes with the support customers have come to rely on, ensuring that their problems are being resolved in a timely and effective manner.