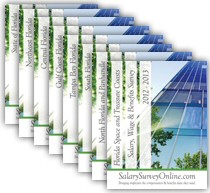 The average turnover rate for Florida is back up to 2.2 percent ...
Clearwater, FL (PRWEB) January 12, 2013
Florida employers have survived the Mayan apocalypse, the fiscal cliff, and have ushered in a New Year, but still face high unemployment and more than just a little uncertainty. Unemployment of 8.1 percent as of November is still higher than the national average of 7.8 percent, according the Bureau of Labor Statistics. The results for this year's salary survey show a much more complex ordeal when it comes to employee turnover and benefit cost.
An immense amount of data comes from the annual 2012-2013 State of Florida Salary, Wage and Benefits Survey provided by Effective Resources, Inc., a leading human resources consulting firm. Approximately 140 Florida employers represent over 618,736 employees throughout the country and nearly 98,871 Florida workers. Use of SalarySurveyOnline.com, a web-based data collection and reporting system, provides employers with accurate data that will help them compete during this economic recovery.
Among the findings of the 2012-2013 survey of Florida's employers:
The average turnover rate for Florida is back up to 2.2 percent a slightly higher rate from last year's 2.0 percent, which continues to fluctuate within this range, in reference to previous data.
Roughly 78 percent of Florida employers reported an increase in medical insurance premiums in the 10 percent or less range. The predicted merit percentage of 2.9 for the state's average actually came in at 2.8 percent this year.
Approximately 93 percent of Florida's employers have employees that work full-time (usually a 40 hour week.) According to Forbes, with the new health care regulations coming into effect soon more benefits will be offered to employees that work over 30 hours a week. Overall, these laws may cause employers to revamp their employee budget for 2013.
In addition to the statewide findings, Effective Resources, Inc. has gathered information specifically from Tampa Bay, South Florida, Northeast Florida, the Gulf Coast, and Central Florida.
"Our data has become progressively more important year by year," said Barry Brown, President of Effective Resources, Inc. "We are honored to deliver our twelfth annual salary and benefits survey for Florida."
The 2012-2013 survey was conducted, tabulated and reported by SalarySurveyOnline.com. To learn more about the surveys, please visit SalarySurveyOnline.com and Effective Resources Inc. for more information.