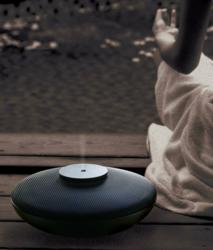 "With the Continued Growth of the Aromatherapy Market these types of partnerships will be key to the expansion of our distribution here is the US."
New York, New York (PRWEB) January 15, 2013
For the months of January and February 2013 Puzhen is offering a promotion exclusively through Brookstone.com. This promotion allows for 15% off the full line of Puzhen products from aroma diffusers like the Five Sense Yun and the Touch, to essential oil scents like Meditation and Citronnel' Plus. Puzhen focuses on a line of diverse cool-water aroma diffusers and pure essential oils to boost health and enhance the senses.
In addition to the retail channel Puzhen is experiencing tremendous growth in the US with a constantly improving online business, growing infrastructure and an expanding sales team with a focus on driving key partnerships within the retail, hotel and Spa industries.
Established in 1995, Puzhen introduced the Lotus, the world's first ultrasonic aroma diffuser. A line of high-end essential oils from France, rare organic Chinese teas and hand-crafted ceramics followed. Puzhen aims to restore simplicity, purity and harmony to everyday life. Puzhen Life USA products provide balance and relieve stress by combining traditional Chinese culture and modern science. Puzhen aroma diffusers help you achieve equilibrium of body, mind and spirit.
Puzhen Life USA diffusers are now featured in the Mandarin Oriental Hotel and the Peninsula Hotel in New York City. They can be found online at Amazon, Brookstone.com and Drugstore.com. To learn more visit: http://www.Puzhen.com