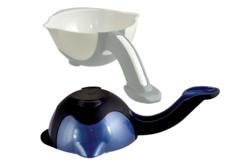 Holding onto the handle of the bowl while eating, provides trunk support and upper body stability...
Wayne, NJ (PRWEB) January 22, 2013
Lack of upper body and/or upper extremity control can make it difficult for some people to control the movement of the hand to the mouth while eating. This can lead to an inability or decreased ability for a person to self-feed and live independently. Maddak Inc.'s new Stay Bowl provides the support necessary to make this motion more controlled.
Kathleen Hanek, Director of Product Management for Maddak, U.S. manufacturer of Ableware® Aids for Daily Living, tells us "The Stay Bowl has a long handle that curves downward to rest on the table - or any other surface. Holding onto the handle of the bowl while eating, provides trunk support and upper body stability allowing the user to eat with more controlled movements. The handle also helps to stabilize the bowl on the table." In addition she tells us "the non-skid bottom prevents the bowl from slipping and helps to minimize spills."
Lightweight and easy to handle, the Stay Bowl has two drinking spouts and a lifting rim. The spouts allow for a controlled flow of liquid from the bowl to the mouth and will accommodate left and right handed users. The lifting rim, opposite the handle, provides extra stabilization when lifting the bowl to the mouth and when transporting the bowl. "These features", according to Hanek, "enhance the users control and increase the ability to self-feed."
The Stay Bowl is available in two color combinations – white/light gray and blue/black – and has a 16 oz. capacity allowing for ¾" from the fluid to the rim of the bowl. Made of durable polycarbonate the Stay Bowl is microwave and dishwasher safe, scratch and shatter resistant and latex free. The suggested retail value of the bowl is $12.95. For additional product information go to http://www.maddak.com. For a copy of the Maddak catalog or a list of local dealers write, call, fax or email: Maddak Inc., 661 Route 23 South, Wayne, NJ 07470, Tel: 973-628-7600, Fax: 973-305-0841, Email: custservice(at)maddak(dot)com or visit the Maddak web site – http://www.maddak.com.
About Maddak
Maddak Inc. manufactures products that simplify the tasks of daily living – eating, drinking, dressing, grooming, bathing, toileting, etc. – for seniors, people with disabilities and people undergoing rehabilitation. The company mission is to provide quality products that enable people to maximize their independence and remain active despite any limitations they may face. Marketed under the Ableware® brand name, the Maddak product line includes over 500 products sold through medical and hospital supply centers, pharmacies, homecare centers and internet outlets. Established in 1971, Maddak Inc., headquartered in Wayne, NJ is the largest U.S. manufacturer of assistive devices, clinical modalities and home healthcare and rehabilitation products.
# # #