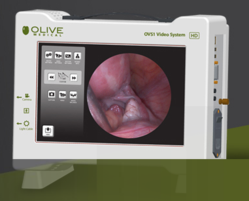 With the OVS1 product, we've focused on bringing the high quality image you're used to seeing in an operating room, to an office setting – all while keeping costs to a minimum.
Salt Lake City, UT (PRWEB) January 10, 2013
Olive Medical Corporation—graduate of the Miller Business Innovation Center at Salt Lake Community College and winner of the 2011 Salt Lake Small Business Development Center Client of the Year award—launches its OVS1 high-def visualization system. This all-in-one device is a complete video system for performing surgical procedures both in physicians' offices and operating rooms.
"With the OVS1 product, we've focused on bringing the high quality image you're used to seeing in an operating room, to an office setting– all while keeping costs to a minimum," said Olive Medical CEO Joshua Talbert. "We've been able to take our renowned HD surgical quality video and package it into a complete system for office use. We've also added a few unique features such as our intuitive touch screen user interface, which allows users to interact with the system just like they would a smart phone or tablet."
The OVS1 is a lightweight, compact complete visualization system for in-office procedures. The office system boasts a crisp 1080p HD image, LED light source, and touch-screen interface, bringing OR quality imaging for physician office procedures.
The OVS1 is compatible with Olive Medical's TCK1 HD Camera Head, the first camera of its kind to use a HD CMOS sensor to capture a native 1080p HD image – making it the fastest, safest and most affordable image available on the market. Olive Medical will also continue to offer the industry's only five-year replacement for this camera head.
Popular both in the United States for operating room and office use, and internationally by physicians with mobile practices, the complete OVS1 system includes a camera control unit, an LED light source, a 12.1 inch capacitive touch high bright display and a TCK1 HD Camera Head and a fiberoptic light cable in a compact portable package. The OVS1 is compatible with any standard eyepiece endoscope in addition to Olive Medical's own HD optimized endoscope line.
For more information, contact Michael Brown at: pr(at)olivemedical(dot)com or 1-866-300-1148.
About Olive Medical Corporation: Olive Medical Corporation, a Salt Lake City UT based medical device company, is dedicated to providing affordable HD MIS imaging equipment to the OR and physician offices. Olive Medical provides affordable "True HD" MIS visualization with intuitive controls and lightweight ergonomics using a combination of superior technology, cutting-edge imaging sensors and lean manufacturing processes to fit all cost containment needs while providing native 1080P imaging. All imaging manufacturing for Olive Medical is based in the United States.
About the College: Salt Lake Community College is an accredited, student-focused, urban college meeting the diverse needs of the Salt Lake community. Home to more than 62,000 students each year, the College is the largest supplier of workforce development programs in the State of Utah. The College is the sole provider of applied technology courses in the Salt Lake area, with 13 sites, an eCampus, and nearly 1,000 continuing education sites located throughout the Salt Lake valley. Personal attention from an excellent faculty is paramount at the College, which maintains a student-to-teacher ratio of less than 20 to 1.
# # #