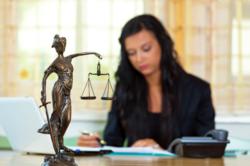 There are many reasons to hire a bankruptcy lawyer.
Tecumseh, MI (PRWEB) January 16, 2013
The decision to file bankruptcy is not easy, but may be a reality for many people. If an individual decides to file for bankruptcy, she must ask herself, "Is it necessary to hire a bankruptcy lawyer?"
First, is it possible to file for bankruptcy without a lawyer? Yes. It is not a legal obligation to have an attorney to file bankruptcy. Individuals may file for bankruptcy and represent themselves in bankruptcy court without the aid of a lawyer. This is called "pro se."
However, this does not mean that an individual should file for bankruptcy without an attorney. In fact there are many reasons to hire a bankruptcy lawyer. Here are three tips to decide if it is necessary to hire a bankruptcy lawyer.
1. The process for filing bankruptcy is very technical, and must be handled correctly. Even if bankruptcy is filed without an attorney, the person filing is held to the same standards as an attorney. This means that she is responsible for everything a lawyer would handle in a bankruptcy case. Due to the technicality of bankruptcy, those who file without a lawyer often make mistakes. For example, a case may be dismissed due to filing error, which can affect the right to file in the future.
In 2005, bankruptcy law significantly changed. This has made filing for bankruptcy more difficult. Most individuals are not familiar with the bankruptcy process, and the risk of error is high.
2. Bankruptcy has long-term financial and legal consequences. A bankruptcy can affect a person's credit for many years. Bankruptcy can limit a person's career growth, hinder her from purchasing a home, and prevent her from certain tax credits and deductions. In addition, filing for bankruptcy is very time-consuming and emotionally draining, which can affect a person's personal life.
3. Filing with an attorney can make the process run much smoother. A bankruptcy lawyer can help with many things. He can answer questions, help with the decision to file Chapter 7 or Chapter 13, and handle creditors. He can prepare and file the bankruptcy petition and represent you in court. Though fees are involved, a lawyer's help is invaluable when it comes to filing bankruptcy.
Once the decision to file bankruptcy is reached, it is time to seek sound legal advice. The law office of Charles H. Gross can help in the decision to hire a bankruptcy lawyer. This law office represents debtors in bankruptcy proceedings, and has for over 25 years. This law office offers counseling, advice, representation, and more. Bankruptcy is stressful, burdensome, and meticulous, but it becomes manageable with a lawyer's help.