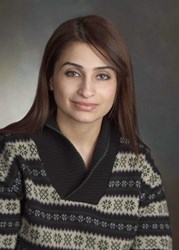 Berkeley Heights, NJ (PRWEB) January 17, 2013
Summit Medical Group, New Jersey's largest private multispecialty medical group, has appointed Amina Ahmed, M.D., as its new Director of Hospitalist Medicine.
Before joining Summit Medical Group in 2008, Dr. Ahmed was an internist with privileges at Christ Hospital, Jersey City Medical Center, Hamilton Park Rehabilitation Center, the Cusack Care Center, and Newport Nursing Home, all in Jersey City, N.J. In addition to her responsibilities as a hospitalist, Dr. Ahmed's professional interests include cardiovascular medicine. She is board certified in internal medicine.
Dr. Ahmed earned her B.S. at New York University, New York City, and she earned her M.D. at UNIBE School of Medicine, Santo Domingo, Dominican Republic. She completed her residency in internal medicine at Beth Israel Medical Center in Newark, N.J.
Dr. Ahmed is a member of the American Medical Association and American Pakistani Physicians Association of North America. She has been the Summit Medical Group Interim Director of Hospitalist Medicine since fall 2012.
Dr. Ahmed practices at Overlook Medical Center, 99 Beauvoir Avenue, Summit, N.J.
ABOUT SUMMIT MEDICAL GROUP
Summit Medical Group (SMG) is the largest privately held multispecialty medical practice in New Jersey. SMG maintains a 42-acre healthcare campus in Berkeley Heights and 19 additional practice locations in Berkeley Heights, Morristown, Millburn, Short Hills, Springfield, New Providence, Warren, Westfield and West Orange. As an East Coast premier multispecialty group, SMG has provided exceptional primary and specialty care since 1929. For more, visit http://www.summitmedicalgroup.com.