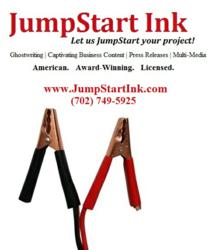 JumpStart Ink helps people write and market traditional books, eBooks and other business collateral.
(PRWEB) January 13, 2013
People looking to hire a ghostwriter now have a financing option. JumpStart Ink, an American and award-winning writing firm, is backed by PayPal's Bill Me Later feature. The feature is also used by companies like Starbucks, Target and Overstock.com.
"We have a lot of clients who want to tell their story or need help writing business collateral. The problem is that many businesses are strapped for cash. Now, we have an win-win option for people looking to write a book or for businesses in need of marketing and/or website content," said Helene Vece of JumpStart Ink.
JumpStart Ink can help write a person's book or business collateral. The Bill Me Later feature requires a project minimum of a thousand dollars with JumpStart Ink. "Bill Me Later is a line of credit through PayPal. The feature allows my clients to start their book or business writing projects now," continued Helene Vece.
JumpStart Ink offers ghostwriting and business writing services. The company helps people write and market traditional books, eBooks and other business collateral. "It is the start of a New Year and the best time to start that book. With Bill Me Later our clients don't have to use lack of cash as an excuse for not fulling their book writing dreams." For more on Bill Me Later click here: https://www.paypal.com/webapps/mpp/billmelater-productoverview
About JumpStart Ink: JumpStart Ink is fully licensed as a corporation. Our team has over twenty-five years of ghostwriting experience. In addition, JumpStart Ink has a competitive understanding of comprehensive business content and media writing, publicity, and multi-media marketing.
Members of our team have been credentialed by CNN, the International Press Academy, and have sold an astonishing number of books in a variety of genres.
Contact: 702-749-5925, ext 210