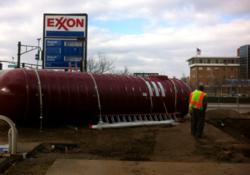 We help owners reduce construction costs and minimize stress. We can handle all components of the project, and keep them constantly updated.
Sparta, New Jersey (PRWEB) January 11, 2013
ATS Environmental has started work on a major new project in New Jersey. The Environmental Management and gas station construction company is working with a major oil and petroleum company to assist in the renovation of outdated gas stations and open new, modern stations on the same site.
The 236 gasoline pumping stations in New Jersey are part of a larger nationwide environmental construction management project spanning 2,200 sites including 221 in the New England area and 183 in the State of Florida. The 236 sites are scattered throughout New Jersey but the majority of sites are located in the Central and Northern part of the state in the most populated areas. These sites are older, company-owned stations in the process of being rehabilitated and restored to modern standards for use by wholesale petroleum retailers.
A gas station is more than meets the eye. Under the familiar pumps that dispense fuel for cars, trucks, and motorcycles are several feet of piping; and tanks contained entirely underground that hold thousands of gallons of fuel. The larger the station, the more complex the piping systems and the larger the gas station construction process becomes. Each station is completely renovated – all dispensers, pads, lines and tanks are entirely removed from each site. The soils are checked for contamination and removed if necessary. All new equipment is installed, and the station is rebuilt brand new to be used as a petroleum station once more.
For this project, ATS Environmental handles a portion of the each site's clean-up and the removal of old equipment, and all of the installation for new petroleum dispensing equipment.
Many environmental contractors perform renovations on gas stations. Most contractors specialize in one or two components of the work. This means finding several contractors, increasing stress and delays. "At ATS Environmental we not only have extensive experience with oil and gas construction; but we have a complete staff of licensed specialists and we can complete all work internally, minimizing delays and cost overruns. We help owners reduce construction costs and minimize stress – instead of calling several different contractors, we can handle all components of the project and keep them constantly updated on the progress of construction." says Christopher Tiso, President of ATS Environmental.
A gas station that's out of service is not making money or providing the fuel consumers need, so ATS Environmental aims to complete each project as quickly as possible. "We've already began working on some smaller stations that we expect will be completed in six weeks. Larger stations are expected to take four months. No matter what the size of the project, we provide accurate estimates and keep our customers informed through the entirety of the process." mentioned Tiso.
About ATS Environmental: ATS Environmental is an environmental contractor and construction management in Sparta, New Jersey with active gas and petroleum construction projects throughout New Jersey. For 25 years, they have been helping solve complicated environmental construction problems with cutting edge technology and licensed, experienced contractors. For more information about ATS Environmental, visit http://www.atsenvironmental.com