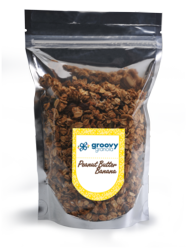 Cleveland, Ohio (PRWEB) January 11, 2013
Stand Up Pouches' customer Groovy Granola is showcasing their Peanut Butter Banana flavor and offering a unbelievable deal to kick off the New Year.
Healthy food lovers will rejoice at this all natural, low fat, and gluten free snack. Groovy Granola is offering 20% off all orders over $20 through the end of January 2013 by using code: HAPPYNEWYEAR at the checkout. Click the link to take advantage of this limited time offer. http://eatgroovygranola.com/shop/ Groovy Granola is healthy for you and for the environment they package properly in Stand Up Pouches' eco-friendly pouches.
About Groovy Granola
Groovy Granola is made in the heart of Baldwinsville, New York using fine local ingredients including honey, maple syrup, apple sauce and dried fruits. Low fat, all natural, delicious and gluten free.
About Stand Up Pouches
ABC Packaging's stand up pouches are made with multiple layers of film laminated together making the pouch strong and keeping products fresher longer. They protect products from moisture, vapor, oxygen, odor, light, or puncture. Made with ziplocks, tear notches, hanging holes, pour spouts, handles, and if needed gas release valves. Stand up pouches can be made big or small but they will always be a showstopper on the shelf.