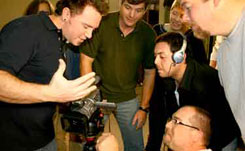 Chico, CA (PRWEB) January 11, 2013
To celebrate the new year, Videomaker magazine is holding workshops catering to videographers of every skill level in February. These popular workshops are taught by Videomaker's expert instructors and offer guidance for anyone interested in becoming better at shooting video. Whether a videographer has been shooting video for years or has just picked up a camera for the first time yesterday, he can still find the training that will benefit most.
Videomaker's Intensive Editing Class
Even a videographer who has read all the articles, watched all the DVDs, and learned all the theory can still find that his editing just isn't getting the results he needs. Sure, his editing is good enough - but there comes a time when "good enough" isn't good enough. It needs to be great. This three-day, hands-on course is for students who understand the basics and want to take their skills to the next level. Each student works on an HP mobile workstations, using Adobe professional editing software while learning advanced techniques like time remapping, advanced trimming features, and multi-camera editing. Get the confidence to make pro video productions.
Videomaker's Basics of Video Production Class
Get practical experience in planning, shooting, and editing a video project from start to finish in just three days. Learn the skills to start making professional video in a fun and friendly environment where one doesn't have to be an expert to benefit. Get Hands-On experience with video production gear used by professional videographers. Learn the entire video process from production planning to shooting, lighting, editing and audio work.
Space is limited, so sign up early to learn how to become a better videographer. Learn more at http://www.videomaker.com/events