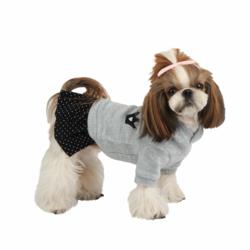 Organic Pet Boutique is one of the Largest Dog Clothing Retailers on the Web
New York, NY (PRWEB) January 15, 2013
Organic Pet Boutique has seen a trend in Dog Clothing that has evolved over the past ten years. The Dog Clothing manufacturer's have begun focusing on the function of the Dog Apparel rather than the fashion and customers have been pleased.
One Dog Clothing manufacturer that really listens to their customers feedback is Puppia. They produce Dog Clothing that can be used in conjunction with their harnesses and collars. The Company attaches a leash hole or D-Ring directly to the Dog Apparel so the dog owner can walk the dog with the clothing on.
Organic Pet Boutique's Top 5 Benefits of Dog Clothing are:
1. To Keep Them Warm
Many of the smaller breeds need dog clothing to keep them warm in the colder months. Some of those breeds are Chihuahua's, Greyhound's, Miniature Poodles and Yorkshire Terrier's. Smaller dogs need the added layers to stay warm since they do not have enough body mass to stay warm on their own outside.
2. To Keep Them Afloat
Dogs accompany many boaters on their adventures at sea and they also need to be protected. Dog life jackets are a staple among boaters. The life jacket not only keeps the dog afloat if they find themselves overboard but they also come equipped with a handle that helps the boater guide them back aboard the vessel.
3. To Protect Their Feet
Winter can be tough time for dogs as they not only have to worry about the dropping temperature but they also need to watch for ice, salt and chemicals that accumulate on the walkway's. Dog's paws can become dry and cracked due to the element's so it is best to protect them with dog boots. Dog boot's have evolved over the years and they now have options that slip right on and stay in place like the rubber boots from Pawz.
4. To Keep Them Dry
Dog rain coats have become a staple among pet owners. As we all know pet's dislike the rain and snow and prefer to go potty inside on those inclement days because they dislike getting wet. Dog raincoats have helped many dogs gain the courage they need to venture outdoors on those wet days.
5. To Keep Them Anxiety Free
Dog anxiety clothing is a new category among dog clothing that has helped many pet owners and dogs alike. The anxiety clothing functions as a comforting tool for dogs that have separation anxiety, fear of storms, fear of traveling etc. The shirts wrap around the dogs torso and help to calm the dog with a light soothing resistance.
To Learn more about the benefits of dog clothing or to shop the current dog apparel fashions visit http://www.organicpetboutique.com