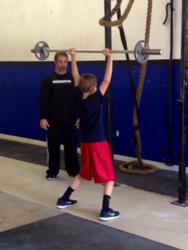 I have a great love for working with student athletes. I love to help them achieve the goals and see them grow as people!
Gulf Breeze, Fla. (PRWEB) January 23, 2013
Acceleration Fitness Center in Gulf Breeze has launched a group training program for middle and high school student athletes. Acceleration Fitness is a locally owned and operated health club that offers traditional gym memberships, group fitness memberships, and CrossFit training memberships. The middle and high school athlete program will focus on helping student athletes condition their bodies to become better athletes.
With certified trainers and specialists on staff, student athletes will be safely and properly performing each exercise to prevent injury from incorrect form. The program will combine strength training with speed and agility exercises to help students become well-rounded athletes.
Though the program is focused on fitness, having a well-conditioned body will improve a students' academic performance as well. Exercise is an important part of everyday life, and a healthy body can help students focus better and think more clearly. During the program, students will learn discipline, integrity, teamwork, honesty, and self-confidence. These traits will help the student become a more successful individual.
"I have a great love for working with student athletes. I love to help them achieve their goals and see them grow as people!" says Acceleration Fitness owner Andy Tucker.
Training times are after school. For more details call (850) 934-1260.
About the company:
Acceleration Fitness Center is the newest and premier health club in Gulf Breeze, FL and the surrounding area. Being locally owned and operated, Acceleration Fitness Center promises to provide the Gulf Breeze community with a 1st class facility! Acceleration Fitness Center wants to invite the public to their gym and fitness center to achieve all their fitness needs. Their fitness club offers afterhours access, private restrooms, personal training, fitness classes, cardio TV, HDTV's, on site babysitting and memberships. For more information visit their website at http://www.accelerationfitnesscenter.com.