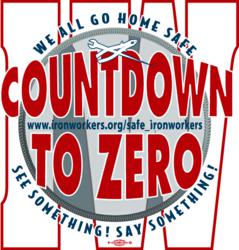 Safety for our members is our number one priority.
Washington DC (PRWEB) January 11, 2013
Following the dramatic improvement in jobsite fatalities resulting from the year-long "Countdown to Zero in 2012" safety awareness campaign, Iron Workers and the Ironworker Management Progressive Action Cooperative Trust (IMPACT) will continue to expand and build upon the program to reach our goal of zero fatalities.
"Safety for our members is our number one priority," said Iron Workers General President Walter Wise. "Every spouse should be able to greet their ironworker, every child should welcome home their ironworker parent and every mother and father should be able to embrace their ironworker son or daughter at the end of each day. This is why we are proud to have saved lives in 2012 by emphasizing safety awareness for our members and their responsibility to look out for each other, thereby increasing our already rigorous adherence to safety standards."
Iron Workers saw a marked decline in fatalities in 2012, compared to years 2007 to 2011, with the average yearly fatality rate plummeting 59 percent.
As part of the renewed campaign, Steve Rank, Iron Workers Executive Director of Safety and Health, has announced that the "focus on the deadly dozen hazardous activities will continue, and a series of new campaign materials will be provided to District Councils, local unions and apprenticeship training facilities." These new materials include hard hat stickers, gang box stickers and posters emphasizing the importance of jobsite safety, which, according to General President Wise, serve as "visible reminders…to reinforce what is at stake and that it will take everyone to save a life."
The "deadly dozen" common jobsite hazards refers to twelve of the most common safety issues Ironworkers and Contractors encounter on the job.
In addition, the Iron Workers Safety and Health Department, with IMPACT's support, will continue to publish regular safety reports for Ironworkers, Contractors and various regulatory agencies in an effort to "finish strong and finish safe in 2013," according to Rank.
General President Wise indicated that distribution of visual safety reminders is vital to saving lives, and the "Countdown to Zero in 2012" marketing materials demonstrated their effectiveness. Ironworkers and Contractors received neon green safety wristbands, "deadly dozen" awareness posters, hardhat stickers, gang box stickers and regular safety updates—both in written and Webinar form—from the Iron Workers Safety and Health Department. The Iron Workers and IMPACT will distribute updated safety awareness materials throughout 2013.
More information about the "Countdown to Zero" safety and awareness campaign, in addition to safety resources from the Iron Workers Safety and Health Department, is available online at http://www.ironworkers.org/safe_ironworkers.
About the Iron Workers Union: The International Association of Bridge, Structural, Ornamental and Reinforcing Iron Workers (IABSO&RIW) was founded in 1896 in Pittsburgh, Penn. They now represent more than 125,000 Ironworkers throughout the United States and Canada. The IABSO&RIW's mission is to improve the working conditions of its members while promoting constructive relationships with their employers to increase work opportunities.
About IMPACT: The Ironworker Management Progressive Action Cooperative Trust (IMPACT) is an independent labor-management partnership designed to create work opportunities in the North American ironworking industry. Our primary mission is to provide a forum for Ironworkers and signatory contractors to discuss effective strategies to expand job opportunities through innovative labor-management cooperative programs. IMPACT provides expertise in training, construction certifications, marketing, construction project tracking and bidding, insurance and Davis-Bacon compliance efforts. IMPACT also administers a world-class substance abuse program to ensure that Ironworkers are safe, drug-free and ready to work.