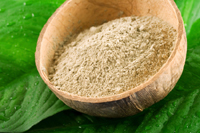 San Francisco, CA. (PRWEB) January 16, 2013
Zion Health announces its top selling natural deodorant; ClayDry is now available at Whole Foods Market in Cupertino, CA. Zion Health's natural deodorants neutralize odor and absorb wetness with a popular homeopathic remedy combining nutrient rich minerals from calcium montmorillonite clay (a high grade form of detox Bentonite clay), alpine lichen extract and essential oils.
Conventional antiperspirants and deodorants use aluminum to stop sweating and reduce body odor. According to Joseph Bernardo MD., author of Aluminum Toxicity Medscape Reference, the exact biological implications of aluminum in the body are unknown but an accumulation of aluminum can create toxicity in bodily tissues. Bernardo states that "no biological function has been attributed to this metal (aluminum), and, more importantly, aluminum accumulation in tissues and organs results in their dysfunction and toxicity." Cumulative aluminum buildup by conventional deodorants is therefore a concern for consumers who seek natural products. Zion Health's aluminum-free deodorant reduces body odor naturally and is an alternative to aluminum-based antiperspirants and deodorants.
ClayDry natural deodorant contains the highly absorbent, edible-grade clay Kanwa ( a high grade form of bentonite detox clay), with natural detoxifying properties. Dr. David Wetter, M.D. of the Dermatology department at the Mayo Clinic notes that "perspiration (apocrine) itself is practically odorless. But the smell can become unpleasant when perspiration comes into contact with bacteria on the skin." Claydry natural deodorants absorb bacteria on the skin to reduce odor with the anti-inflammatory ingredient of alpine lichen and essential oils.
ClayDry deodorants and additional Zion Health skin care products are now available at Whole Foods Market in Cupertino, CA as well as select local health food stores in the United States and Canada. Products may also be purchased online at http://www.kanwaminerals.com. Zion Health provides consumers with pure skin and body care products that are 100% vegan, free of parabens and are formulated using certified organic ingredients whenever possible. For more information on Zion Health products, go to http://www.zionhealth.com.
# # #