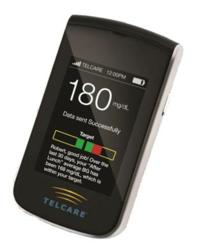 Telcare allows your doctor to get a much better view of your condition than a simple blood glucose log, which can result in more precise treatment options and thus better diabetic control. Gary Kaye, Last Gadget Standing Judge
Las Vegas, NV (PRWEB) January 10, 2013
Telcare's wireless blood glucose monitoring system scored a wildly enthusiastic audience ovation in the Top 10 finals of the annual Last Gadget Standing competition at the 2013 Consumer Electronics Show. Telcare was one of only 4 companies to break 70 on the applause meter and took 3rd in the popular voting. "This is the first time in history that a life-transforming, FDA-cleared medical device has broken into top tier of the consumer electronics world," said Dr. Jonathan Javitt, Telcare's co-founder and CEO, "we feel incredibly honored to have been included among the top names in consumer electronics."
Telcare's product is the world's first wireless (cellular) enabled glucose meter, which was just launched as the first FDA-cleared medical device to be certified on Verizon's network. The Telcare product enables America's 30 million people with diabetes to connect automatically to their physicians, families, and other caregivers. The device works like traditional glucose meters, familiar to all people with diabetes, but wirelessly transmits every reading to Telcare's secure clinical server and delivers immediate feedback to the patient. There are no extra steps for the user, since transmission is automatic and no cellular phone or contract is needed, since the cellular service is included in the price of the product.
Gary Kaye, the award-winning technology journalist who introduced Telcare's presentation said,
"I have been living with the Telcare wireless blood glucose monitor for more than half a year. It is a wonderful advance for diabetics. Any blood glucose meter delivers pieces of data. But the Telcare, by sending your blood sugar readings into the cloud wirelessly, allows you to draw real information from your readings. The system provides terrific graphing and report capabilities which allow you to see how you're doing. But even more, it allows your doctor to get a much better view of your condition than a simple blood glucose log, which can result in more precise treatment options and thus better diabetic control. "
Telcare's presentation focused on the patient experience of using the device. The company presented a video featuring four patients who explained how the use of Telcare's product in managing their diabetes had transformed their ability to manage their health. More than 30 million Americans have diabetes and the secret to preventing its complications lies with monitoring and control of blood sugar.
About Telcare, Inc.:
Telcare, Inc. uses cellular technology and social networking to bridge the last mile between patients with diabetes, their caregivers, and their families in order to transform the care of chronic illness. The Company's first product, a wireless Blood Glucose Monitoring System, was launched in February 2012. Telcare has been awarded two First Place E-Tech awards by CTIA, been named the MEDTEC startup of the year, been awarded the Triple Tree Award at the Wireless Life Sciences Alliance and been awarded the 2012 Edison Gold Award. Telcare's products have been featured in the Wall Street Journal, the New York Times, Forbes, Fox News, and numerous other media sources. Telcare is funded by Sequoia Capital (Menlo Park, CA), the Qualcomm Life Fund (San Diego, CA), and private investors. The Company was founded in 2009 by Jonathan C. Javitt, M.D., M.P.H., John R. Dwyer, Jr., and David Bjork.