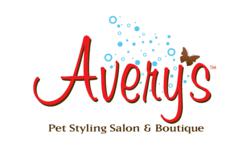 Taria Avery, CEO of Avery's Pet Styling Salon and Boutique, is gifting new clients with a special Winter Pet Care offer of up to 15% off pet grooming spa packages this season.
Philadelphia, Pennsylvania (PRWEB) January 10, 2013
Along with holiday cheer, the winter months also usher in blistering weather that can be harsh on pets. Avery's Pet Styling Salon and Boutique, a mobile pet grooming service based in the Greater Philadelphia area, wants to ensure pet parents are properly prepared to care for their fur-kids this season and is offering new clients a winter pet care special of up to 15% off pet grooming services.
In addition to the seasonal savings, Avery's is offering customized scheduling and special winter hours for pet grooming mobile services specifically to meet pet parents' needs. Maintaining a winter grooming schedule will keep pets healthy and looking fresh as they enjoy the abundance of cuddles and hugs throughout the season.
NEW CLIENT WINTER PET CARE SPECIALS
Save 5-15% off of a Full Service Styling or Deluxe Pet Spa Bath for your cat or dog (Valid for Full Service Grooming or Deluxe Spa service. New clients only)

Deluxe Spa Bath - Save 15%
Deluxe Spa Bath plus haircut - Save 10%
Deluxe Spa Bath includes Avery's signature hydro-massage spa bath, health assessment (we provide an extra line of defense to your regular vet visits), hand fluff-dry, nail trim, ear cleaning (plucking as needed), paw pad and sanitary trim, gland expression, thorough brush out, comb out, de-shed treatment, etc.
Full Service Grooming with haircut - Save 5%
Full Service Styling includes all above plus, haircut to suit your pet's lifestyle and needs, expert hand scissoring and hand stripping services also available.
Contact Avery's today to schedule an appointment to qualify for special savings. Don't see what you need, inquire within. Avery's Pet Styling and Boutique offers a variety of options to meet the specific needs of pet parents and their fur-kids. Our hours of operation are Monday-Saturday 7am-7pm by appointment only. Contact us via phone or email with additional questions or concerns. Call 877-5-Averys (877-528-3797), email scheduling(at)averyspetstyle(dot)com or visit http://averyspetstyle.com to learn more.
More About Avery's Pet Styling Salon & Boutique
Avery's Pet Styling Salon & Boutique is a multi-award winning mobile grooming salon for dogs and cats servicing the Greater Philadelphia metro area region and southern New Jersey. Philadelphia Magazine named Avery's the "Best Mobile Dog and Cat Groomer" in the region in 2011. Avery's grooming service promotes the health and wellness of our fur-kids while offering convenience and peace of mind. Each fur-kid receives special individualized attention from Avery's team of Certified Pet Groomers and Stylists. Avery's pet groomer stylists are prepared to pamper dogs and cats of every breed with high quality eco-friendly spa treatments and a keen eye on the fur-kid's health. Avery's Pet Styling Salon and Boutique is for pet parents who want to rely on professionals to simplify their pet care decisions while enhancing their modern lifestyle. If you desire the best pet grooming mobile services for your fur-kid call Avery's Pet Styling Salon and Boutique today at 877-5-Averys (877-528-3797) or send an email to scheduling(at)averyspetstyle(dot)com.