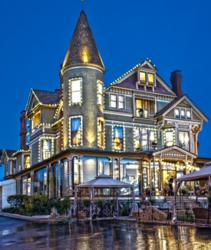 Come see how something oh so cold, can be oh so HOT!
(PRWEB) January 13, 2013
The historic Baker House, home of Wisconsin's very first Ice Bar, will once again be transforming its lakefront garden into a winter wonderland featuring their 3rd annual 'Fire & Ice Lounge'.
Festivities at the downtown hotel & restaurant will coincide with the U.S. National Snow Sculpting Competition in downtown and will officially begin Friday, February 1st at 4pm with the ringing of the mansion bell-tower and ceremonial first run of the ice luge. The brilliance of the 'Fire & Ice Lounge' at sunset becomes heavenly with the appearance of 'Ice Angels' serving fireside drinks in cups made entirely of ice. There will be an array of savory delights and hot toddy's available as well as the Baker House Signature Snow-cones topped with flavor infused SKYY vodkas. For those who prefer something a little less chilly, there will be warm 'Fancy Shanty's' with fur covered benches and fireplaces to sit by.
This year's icy extravaganza promises to be the most spectacular event yet, with a 10 foot custom carved Ice Bar, created by Guinness Book record holder and international award winning artist Max Zuleta of Art Below Zero who will be performing a dramatic ice sculpting show 4pm on Saturday, February 2nd. "This will be our best Ice Bar to date and with SKYY Vodka as a Premier Sponsor we are sure to have a magical time," says Bethany Souza, of HGTV's "Design To Sell" and Co-Founder and Executive Director of the Baker House.
The Baker House 'Fire & Ice Lounge' will be open weekends through February or until Mother Nature puts an end to the frosty fun. For more information and details: 262.248.4700 ~ BakerHouse1885.com
Baker House - Baker House 1885 is a fantastical folly set in a bygone era, and for those who crave to live the life of "Emily " where the luxury mansion suites awaits... Hotel guests at the Baker House become part of a highly discriminating, interesting clientele desiring a unique experience that is as luxurious as it is mysterious.
"We designed Baker House with a hint of vintage glamour, and a dash of old world aristocracy you will be completely swept away to a world of Gilded Age living. From the Butler who prepares your favorite drink without being asked to the Chamber Maid who arranges the pillows on your bed exactly as you requested, the Baker House is a place to call home, a place where you can be yourself, or better yet, be whomever you want to be; so check your worries at the door, grab a hat and travel back in time with us.... The fun has just begun!" says Ms Souza in her classic vintage sweeping gown.
For more information and details: 262.248.4700 ~ BakerHouse1885.com