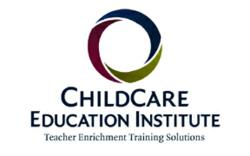 We are pleased to add Florida to the list of states that recognize CCEI's Early Childhood Credential.
Duluth, GA (PRWEB) January 11, 2013
ChildCare Education Institute (CCEI), an online child care training institution, is proud to announce that practitioners who hold the CCEI Online Early Childhood Credential (ECC) meet the formal educational qualification requirement of the Florida Child Care Staff Credential as required by the Florida Department of Children and Families (DCF).
The Florida Department of Children and Families, Child Care Services, has evaluated CCEI's ECC and determined that the 180-hour online program satisfies the Approved Birth Through Five Child Care Credential or Florida Child Care Provider Credential (FCCPC) requirement for a Florida Child Care Staff Credential. CCEI's ECC is for professionals working with children in the birth to eight year age range. The ECC grants 18 IACET CEUs and is designed to provide a basic framework of early childhood education theory and application. The ECC is also recognized by the National Association for the Education of Young Children (NAEYC) to meet part of the Alternative Pathways for directors working to qualify as Designated Program Administrators, and holders of the ECC can be considered qualified for Head Start positions that require a minimum of a CDA or other certificate.
In addition to the approvals previously mentioned above, the ECC is also recommended by the National College Credit Recommendation Service (National CCRS) for 12 semester hours of college credit in Early Childhood Education (ECE). The National CCRS is conducted by the Board of Regents of The University of the State of New York, which has over 1,500 higher education institutions willing to consider its college credit recommendations.
"We are pleased to add Florida to the list of states that recognize CCEI's Early Childhood Credential," said Maria C. Taylor, President and CEO of CCEI. "This quality program is a great starting point for practitioners in the early childhood field."
The Early Childhood Credential is available for secure online enrollment at any time.
About CCEI
ChildCare Education Institute provides quality, online professional development courses and programs for educators in a range of child care settings, including family child care, preschool centers, prekindergarten, nanny care, daycare, and more. Over 100 English and Spanish child care courses are available to meet licensing, recognition program, and Head Start requirements for training online. Additionally, CCEI offers online certificate programs, such as the Online Child Development Associate (CDA), Online Director Credentials, Renewals, state-customized programs, and more. CCEI is accredited by the Accrediting Commission of the Distance Education and Training Council (DETC), approved by the International Association for Continuing Education and Training to award IACET Continuing Education Units (CEUs), and authorized under the Nonpublic Postsecondary Educational Institutions Act of 1990, license number 837.
For more information, visit http://www.cceionline.edu or call 1.800.499.9907.