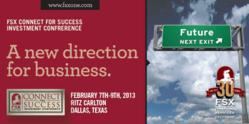 Dallas, Texas (PRWEB) January 11, 2013
FSX, the premier investment conference organization in the United States, has officially opened registration for their next investment conference. The conference will take place in Dallas, Texas, at the Ritz Carlton, February 7-9th, 2013.
FSX holds investment conferences four times a year in a different major U.S. city where emerging growth companies connect with a nationwide network of financial investment professionals. FSX brings the CEOs and executive officers of the presenting companies together with the principals and key decision makers of the broker/dealers and other financial firms; providing a forum where presenting company CEOs seeking capital and/or market support can go to showcase their companies in a dedicated environment that is conducive to networking and building financial relationships. Billions of dollars have been raised for companies at FSX Investment Conferences.
The conference will be attended by private and public companies, FINRA licensed broker dealers, investment bankers, fund managers, RIA's, CFA's, private equity, venture capital firms and companies that have a product or service that is used by independent broker dealer firms and or emerging growth companies. "I have no doubt the conference in Dallas will sell out just like the last one," stated CEO of Interlinked Delray Wannemacher.
Companies presenting at the FSX Investment Conference will have company interviews professionally shot, edited and hosted on the FSXInterlinkedTV web channel.
Judy Ensweiler, FSX Executive director, said that "Matt Fisher, former NBA player, creator of the "Fish Hook", will have a lively presentation to kick off this year's program." Ensweiler added "As a member of FSX, or as an attendee at the Dallas conference, you will have access to a 1 1/2 hour course designed as firm element training conducted by Rick Nummi, former SEC attorney."
About FSX & InterlinkedTV
FSX is one of the most reputable and established national alliances in the country for the independent broker/dealer network, providing education and opportunity. At each FSX conference, we bring the CEOs and executive officers of the presenting companies together with the principals and key decision makers.
InterlinkedTV is an internet video production and distribution site dedicated to Entrepreneurs and Investors. We feature education, public and private companies, venture capital news, and investment events. This content is exclusive and cannot be found anywhere else. We give our members and viewers a unique chance to meet the CEOs and executives of high growth companies.
# # #