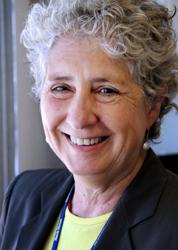 We believe that the goal of expanding access to these programs is to improve equity and opportunity for all learners—ideas that have earned a prominent place in the Commission's report.
New York, NY (PRWEB) January 10, 2013
In his New York State of the State address on January 9, Governor Andrew Cuomo championed several initiatives proposed by the New NY Education Reform Commission, on which Elizabeth Dickey—President at Bank Street College of Education—serves.
The Commission presented its Education Action Plan to the Governor in early January, after nearly a year of conducting research and reaching out to stakeholders throughout the state. Governor Cuomo outlined that report's key preliminary recommendations in his speech.
"We need more early education," said Cuomo. "Every expert will tell you that early education makes a difference, and it makes a difference for life. The statistics are overwhelming. Children who receive early education perform 25% better on math by the second grade, 20% better in English, 30% are more likely to graduate from high school, 32% are less likely to be arrested as a juvenile."
"We should provide real pre-K for all our children," the Governor concluded. "We will expand the pre-K to full-day pre-K, five hours, and we will start with students in the lowest-wealth school districts. Let's do it today."
Joel Moser, chair of the Bank Street College Board of Trustees' Government Relations Committee, remarked on the prominent role the College has played in advocating for the kinds of changes reflected in the Commission's report and in the Governor's speech.
"Bank Street has fought for expanded access to pre-Kindergarten since the genesis of programs like Head Start in the 1960s," Moser noted, "and continues to advocate for policies that make life better for children and families. Developing effective early learning programs for young children in high needs neighborhoods is essential because the potential for achieving educational success begins at birth. We believe that the goal of expanding access to these programs is to improve equity and opportunity for all learners—ideas that have earned a prominent place in the Commission's report."
Regarding the role of Bank Street's president in the Commission, Moser said, "we are delighted that Elizabeth and Bank Street College have been asked to bring its expertise to such important policy discussions."
"We want to be helpful to policymakers on the state's most pressing education reform issues," said Moser. In October, Bank Street hosted one of eleven Education Reform Commission public hearings that served as an opportunity for commissioners to hear directly from stakeholders, including parents, teachers, and public servants throughout the state.
Business leader Richard Parsons, the Commission's chairman, noted in the initial report that "it was imperative to address these complex issues based on facts, not ideology or conjecture." The final action plan, due in September 2013, is intended to outline a statewide system that "supports a student from the earliest days of pre-Kindergarten through college and then career."
ABOUT BANK STREET COLLEGE
Since it's founding in 1916, Bank Street College of Education has been an acclaimed educational institution and advocate for children and families. Bank Street is uniquely structured and internationally-recognized as a free-standing, private Graduate School of Education, an on-site independent School for Children, and a broad range of professional development and social programs. Its mission is to improve the education of children and their teachers by applying to the education process all available knowledge about learning and growth, and by connecting teaching and learning meaningfully to the outside world.
To see what Bank Street College of Education can do for you, visit http://www.bankstreet.edu.