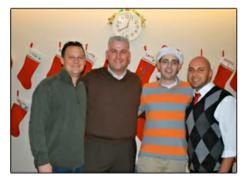 "Gifts that were passed out to children and their families ranged from iPad mini's to Kindle Fire's to PS3's to a pink guitar, wagons, books, toys, clothes, cameras and plenty of gift cards." - Mike Bankowski of Nations Lending Corporation
Cleveland, Ohio (PRWEB) January 15, 2013
"Elves" at Nations Lending Corporation (NLC) were busy throughout December wrapping over $16,000.00 worth of presents in order to help Jeremy Cares Inc. make the Jeremy Cares 2012 Rainbow gift delivery a success. In attendance at the event were Mike Bankowski, a Senior Mortgage Banker at Nations Lending Corporation, William L. Osborne Jr., the C.F.O at NLC and Craig Montgomery, the Vice President of Business Development for Nations Lending Corp.
Through the support of donors like Nations Lending Corporation, 'Jeremy Cares' provides holiday presents based on hospital patient's wish lists. During December of 2012, many employees of Nations Lending Corporation contributed a portion of their wages along with their time to wrap presents in order to provide the kids in the hospital and their families with hope and joy.
Mike Bankowski commented on the holiday event, "This was a very emotional holiday gift delivery filled with many tears, lots of laughter, many smiles of delight and countless hugs. Jeremy George is to be commended. He is a cancer survivor himself and strongly believes that part of his recovery was based on the support provided by strangers who paid it forward in his time of need. Jeremy wanted to do the same after his recovery, so he started 'Jeremy Cares' to give back to patients and families at Rainbow Babies Children's Hospital and the Ronald McDonald House program. I encourage anyone who cares about helping children who are ill to get involved with the 'Jeremy Cares' organization."
More Information:
Click here to watch a video showing the 'Jeremy Cares' 2012 holiday gift delivery.
To learn more about Jeremy Cares Inc., a 501(c)3 non-profit organization, founded in 2011, visit http://www.jeremycares.org. The mission or Jeremy Cares is to enrich the lives of families with children dealing with serious illnesses.
To read the story on the holiday event published by NewsChannel5, click here.
Nations Lending Corporation, founded in 2003 by Jeremy E. Sopko and William L. Osborne Jr., is a national residential mortgage lender headquartered near Cleveland, Ohio in Independence. In 2012, the Cleveland Plain Dealer, ranked the company as one of the best places to work in Northeast Ohio.
The company specializes in funding conventional, FHA, VA, HARP, IRRRL, 15-year fixed-rate, 30-year fixed-rate and streamline refinance mortgage loans for homeowners and borrowers in 43 states. The business is an approved HUD Direct Endorsed Lender and an Automatic VA Lender.
NLC, a mortgage originator, underwrites their own loans and also sells newly originated mortgage loans into the secondary market to banks such as GMAC and Bank of America. Nations Lending Corp. employs a staff of over 170 people at 5 locations in Cleveland, Ohio and over 225 people at 15 mortgage branch offices across the United States.
Media Contact:
Mike Bankowski
Phone: 877-816-1220, Extension 2284
Address: 4 Summit Park Drive, Suite 200, Independence, Ohio 44131