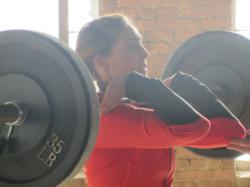 I can't imagine my life without sports and fitness playing a major role
Chicago, IL. (PRWEB) January 14, 2013
In 2011, Black Tiger Performance was founded by Geoffrey Ruttenberg, Neil Curran and Holly Palin based on their mutual love for sports, athletics and fitness. While coaching at the Francis W. Parker School, these three met and started to discus their dreams of opening up a sports performance center.
According to Neil Curran, "My evolution into training has always been about integration. From my days of playing Division 1 Level soccer to now, I've looked to find a way to find and develop a community that works together to be better than they were the day before. I thrive off that energy and use it to challenge myself and others around me. Since that time, I've worked hard through my education and experience, to develop a strong understanding of the human mind and body but most particularly, how to help a person find the ways to push past their perceived limitations. For me, this is what BTP represents- the opportunity to forge a group of individuals into a cohesive community by teaching them about health and fitness.
Holly Palin continues, "I have played sports my whole life and love the competition and camaraderie that comes with playing sports. After competing at the Division 1 level in Field Hockey and Basketball for 5 years I started coaching and training athletes because I could not imagine my life without sports playing a major part. I love being a coach and having the opportunity to help people of all levels of fitness discover their potential and find their inner athlete.
Geoffrey Ruttenberg http://www.geoffreyruttenberg.com elaborates, "Sport is a microcosm of life. You have good days and bad, triumphs and defeat, adversity and jubilation. The better prepared you are, the greater the odds increase for success, on the field and throughout life. While my Division 3 days were limited due to injuries, I enjoyed my soccer and ice hockey experiences, as well as those gained in some of the pro-am golf tournaments I played. It didn't take long to realize the life lessons from sport transcended life. My desire to stay active in sport and share my experiences led to my coaching career and now the formation of BTP wit Neil and Holly."
According to Geoffrey, " Our mission is to be the best performance center in the country by merging the essential elements from conditioning, athletics, fitness and sports psychology in an effort to ensure our clients achieve their aspirations. To recognize individuals have different needs, different fears, different limitations, a variety of strength and body composition, yet nonetheless provide the fundamental core strategies to help them find their own strength to power through these limitations."
Holly stated, "Black Tiger Performance is an athletic based entity providing CrossFit, sport specific performance, athletic training, mixed martial arts and personal fitness services. Situated in a boutique training facility designed to foster individualized attention for the trainee, Black-Tiger's multifaceted mission welcomes adults and kids alike and challenges them to establish goals, commit and accomplish."
Neil described, "The Athletic department was created to provide personal, sport-specific, athletic instruction, either in the form of one-on-one, small, semi-private, or group training. The essence of our programs is to enhance and develop the skills and confidence of young athletes through personal attention with experienced coaches. A customized, comprehensive plan of action is implemented to prepare the athlete both physically and mentally so they can convert their potential talent into realized abilities. This increase in talent, experience and confidence helps to provide a competitive edge during competition."
Black-Tiger's CrossFit department recognizes that in sport, fitness and in life, preparation for the unknown provides greater adaptability and opportunity for successful outcome and experience. Black Tiger CrossFit trains in a specialized modality featuring three distinctive methodologies. We focus on the metabolic pathways for cardiorespiratory fitness and health, to which we divide into aerobic and anaerobic endeavors. We add gymnastics to increase coordination, agility, flexibility, core and trunk strength, neurological completeness and balance. Last, we feature weightlifting for power, speed and strength. By combining the aforementioned in performance training or athletic skill development we are able to increase maximum preparation mentally and physically and mold well rounded athletes capable of greatness.
Black-Tiger Fitness and Performance provides individuals the opportunity to meet or exceed their fitness expectations. This is delivered through expert coaching, high-quality equipment, convenient scheduling and exceptional exercise programs. When a person exercises in a group, has fun and uses everyday functional movements; he or she is far more likely to exercise more often, eat better, have less injuries and lose weight while gaining muscle mass. Our program provides all of the elements necessary for participants to achieve their fitness goals in a boutique environment with creative and personal training solutions.
The Black Tiger Performance facility is situated in the heart of the West Loop in a boutique 12,000 square foot training facility which features a gut renovation designed to replicate an old fashion South Philly boxing studio. Nonetheless, open flowing spaces abound with tons of character to inspire. Exposed brick, high ceilings and state of the art training equipment designed around our programs will great you upon arrival, setting the tone for your session. Additionally, our training facility features a multi purpose surface on our second story to provide the perfect solution for sport specific training, CrossFit sessions, MMA training, other athletic/performance endeavors and birthday parties."
Black tiger is a unique and extremely adaptive animal that has maximized his variants and abilities to become king of the jungle, not unlike Darwin's survival of the fitness theory. As such, with our namesake, and with our unique and progressive fitness variants and philosophies, we hope to impart the same broad base of skill and athletic competency to provide our clientele with the potential to be as successful in their domains as the black tiger is in his.