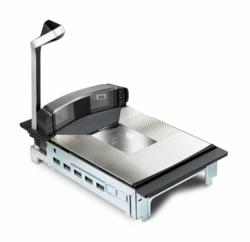 "Datalogic is extremely excited to bring this next generation fixed retail scanner to the market," stated Matt Schler, General Manager for Fixed Retail Products for Datalogic ADC. "We pride ourselves in our global leadership role for fixed retail scannin
Eugene, OR (PRWEB) January 10, 2013
Datalogic is pleased to have the opportunity to showcase the ways they apply, develop, and adapt new technologies to aid retailers in solving their business problems during this international retail industry event. This year Datalogic will be presenting the revolutionary Magellan™ 9800i scanner-scale, an exciting addition to their market leading Magellan family of scanners. The Magellan 9800i unit is the first multi-plane scanner-scale that offers retailers a total digital imaging data capture solution targeted for use in the highest volume retail checkout environment. The full digital imaging capability allows the checker to seamlessly read both 1D and 2D bar codes without requiring special item orientation by the cashier. This scanner-scale ensures accurate weighing of products, improving the retailer's bottom line.
The Magellan 9800i scanner-scale offers the capability to add a top-down reader which delivers the added benefit of reading bar code labels on the top surface of products without resorting to manual orientation. This option also incorporates a customer facing mobile device reader that enables reading of mobile commerce bar codes from cell phones. The addition of this capability to the Magellan 9800i scanner-scale enables the cashier to continue scanning, while the consumer simultaneously presents mobile coupons to be read.
Increasing the throughput performance of high volume checkouts yields faster service, increased profits for retailers and an improved checkout experience for customers. Datalogic realizes that the checkout is not only an important part of the overall shopping experience but because it is the last opportunity a retailer has to impress the shopper, the checkout is the most important.
"Datalogic is extremely excited to bring this next generation fixed retail scanner to the market," stated Matt Schler, General Manager for Fixed Retail Products for Datalogic ADC. "We pride ourselves in our global leadership role for fixed retail scanning. This product demonstrates our continued commitment to develop innovative technology and use it to help retailers and system integrators improve their store automation solutions."
Be sure to stop by Booth 1453 and see firsthand how Datalogic technology can positively complete the checkout experience of your customers.
Datalogic ADC, the world leader in Automatic Data Capture, offers state of the art solutions with fixed position retail scanners, handheld scanners and mobile computers. Datalogic ADC's range includes in-counter and on-counter point of sale scanners, general purpose and ruggedized handheld scanners, rugged mobile computers, industrial PDAs and vehicle mount computers. Solutions for applications in several sectors include healthcare, hospitality/entertainment, manufacturing, retail, services and transportation & logistics.
Businesses in the retail sector can particularly benefit from Datalogic ADC's vision-based technology solutions, analytical tools, self-shopping solutions and consumer relationship technologies.
A division of the Datalogic Group, Datalogic ADC is headquartered in the US with a presence in over 120 countries.
For more news and information on Datalogic ADC, please visit http://www.adc.datalogic.com.
Datalogic Group is a global leader in Automatic Identification with a specific focus on the Automatic Data Capture and Industrial Automation sectors. As a world-class total solutions provider and producer of bar code readers, data collection mobile computer and vision systems, Datalogic offers innovative solutions for a full range of applications in the manufacturing, retail, healthcare and transportation & logistics industries. Datalogic S.p.A., listed on the STAR segment of the Italian Stock Exchange since 2001 as DAL.MI, is headquartered in Lippo di Calderara di Reno (Bologna). The Group's recent acquisition of Accu-Sort Systems Inc., a leading supplier of Automatic Identification products and solutions in the United States, has doubled its presence in the Industrial Automation market, escalating Datalogic to undisputed leadership in the Industrial Bar Code Scanners segment with a market share of 31%. Datalogic Group as of today employs more than 2,400 members of staff worldwide, distributed in 30 countries across Europe, the Americas and the Asia Pacific region. In 2011 Datalogic Group achieved revenues for 425,5 million Euro and invested over 26 million Euro in Research and Development with a portfolio of over 1,000 patents across the world.
For more news and information on Datalogic, please visit http://www.datalogic.com.
Datalogic and the Datalogic logo are registered trademarks of Datalogic S.p.A. in many countries, including the U.S.A. and the E.U. Datalogic ADC and the Datalogic Automatic Data Capture logo are trademarks of Datalogic S.p.A. Magellan is a registered trademark of Datalogic ADC in many countries, including the U.S.A. and the E.U.
Contact:
Pam McQueen
Pam.mcqueen(at)datalogic(dot)com
541-302-2012