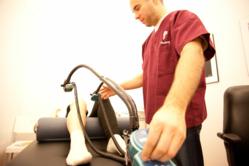 New York, NY (PRWEB) January 11, 2013
Dr. Steven Shoshany, one of NYC's most sought-after providers of non-invasive pain relief treatments, is pleased to offer a vast selection of cutting-edge therapies for fit and active New Yorkers looking to eliminate pain and enhance their performance while remaining committed to their fitness routines.
Dr. Shoshany and his expert physical rehabilitation staff cater to New Yorkers who are looking to keep up their dynamic lifestyles in the New Year, whether they are training for marathons, fitness competitions or for personal health goals. In addition to his signature treatment for back pain and herniated discs, computer-assisted spinal decompression, which restores optimal alignment and health to the spine, Dr. Shoshany offers a wide variety of non-surgical therapies for the treatment and prevention of injuries and pain.
Cold laser therapy is one of Dr. Shoshany's standout treatments for aiding in safe and natural healing, which results in long term pain relief. As he has previously described as a medical expert on television shows, cold laser therapy is a painless and highly effective treatment that can help regenerate damaged soft tissue and can eliminate pain, swelling, and bruising while measurably accelerating healing time. Patients who experience pain due to trauma, injury or excessively stressed muscles or tendons will greatly benefit from cold laser therapy, as it will restore comfort and function to damaged tissues while naturally encouraging tissue restoration at the cellular level. This versatile treatment can be prescribed alone or as part of a comprehensive pain relief protocol. Recently he has been treating many cases of knee pain in Manhattan using cold laser therapy as part of his cutting edge treatments. Dr. Shoshany offers a number of non-invasive pain relief therapies that complement cold laser therapy treatments for a more thorough approach to permanent pain relief, as detailed below:
Kinesio taping: expert application of a specially designed tape that provides muscular and soft tissue support to prevent injury as well as provide reinforcement to recovering tissues without restricting activity or range of motion (as seen on many Olympic athletes)
Chiropractic adjustments: the most straightforward method of realigning and correcting imbalances of the spine and joints, restoring proper mobility, flexibility, stability, and eliminating pain caused by impinged nerves, discs, and soft tissues
Active Release Techniques®: manual detection and correction of soft tissue adhesion that result from overuse and untreated injuries
Graston Technique®: instrument-assisted soft tissue mobilization that treats chronic pain caused by fibrosis or inflammation
The treatments described above can be prescribed alone or as part of a customized treatment protocol which may also include cold laser therapy, where Dr. Shoshany creates a personalized combination of treatments to achieve the best possible results for each patient's condition and individual needs. Cold laser therapy is highly recommended as part of most injury treatment regimens where performance maintenance and enhancement are a concern.
All treatments offered at Dr. Shoshany's state-of-the-art physical rehabilitation facility in NYC are non-surgical and non-narcotic and provide long-term results with no downtime, allowing patients' training schedules and daily activities to remain undisturbed.
Dr. Steven Shoshany is committed to his continued quest for the latest and safest therapies that keep NYC's hardest-working bodies healthy and at their peak without the use of drugs or surgical procedures.
ABOUT DR. STEVEN SHOSHANY
Regarded as one of Manhattan's top chiropractors, Dr. Steven Shoshany is an internationally-recognized pioneering innovator in the field of spinal decompression, being one of the first doctors to offer the revolutionary non-surgical treatment in New York City. A graduate of Life University's class of 1996, Dr. Shoshany is certified in Active Release Techniques (ART) and has been successfully practicing in the downtown Manhattan area since 1999, where he currently resides with his wife and children. For more information on Dr. Shoshany, please visit http://www.drshoshany.com.