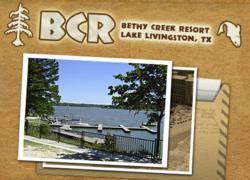 The Endless Ride Cable system is a really awesome wakeboarding experience for all riders, and we are one of the few facilities in the country to feature this exciting new system
(PRWEB) January 15, 2013
Bethy Creek Resort, a top spot for waterfront lodging on Lake Livingston, is featured in the new 2013 Hyperlite catalog, which is now available in print and online.
The catalog highlights Hyperlite's new product line-up, and it was shot entirely on location at Bethy Creek Resort and on the Trinity River.
"Bethy Creek Resort has always been known as a great place for wakeboarding," said Randell Vincent Jr. spokesperson for Bethy Creek Resort. "With our remarkable wakeboarding park, it just made sense for Hyperlite, a leading wakeboarding company, to shoot their new catalog here. We are truly proud of the result."
Bethy Creek Resort is a popular destination for waterfront lodging and RV ground on Lake Livingston. Among the many amenities and features of the resort is an Endless Ride Cable system for cable wakeboarding. The cable offers wakeboarding fun for riders of all levels, with obstacles available for experienced, advanced wakeboarders.
"Cable wakeboarding is a really fun way to get out on the water and have a great time," said Randell Vincent Jr. "The Endless Ride Cable system is a really awesome wakeboarding experience for all riders, and we are one of the few facilities in the country to feature this exciting new system."
In addition to cable wakeboarding, Bethy Creek Resort also offers waterfront cabin lodging, an RV park, fishing pier, boat docks, tent sites, picnic areas, swimming beach, recreation hall, and a host of other amenities.
Bethy Creek Resort is located on the north end of Lake Livingston, and it is a popular vacation destination for families year round thanks to its scenic views and affordable rates.
"We invite travelers to come see the beautiful sights featured in the Hyperlite catalog in person," said Randell Vincent Jr.. "We have affordable waterfront lodging and RV parks for the whole family!"
For more information, call 800-537-6251.
About Bethy Creek Resort
Bethy Creek Resort is a premier destination for waterfront lodging and RV vacationing on Lake Livingston. With amenities that include cable wakeboarding, fishing, boat docks, canoe rentals, pedal boat rentals, and more, Bethy Creek Resort offers something for the whole family. For more information or to make reservations, visit the official website at BethyCreek.com.