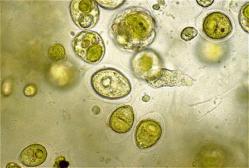 San Diego, CA (PRWEB) January 15, 2013
Jetted hot tubs are definitely a luxury, and can be used for relaxation and/or therapeutic reasons. They are great on cold days or when relaxation is on the mind, but what happens in the plumbing when the system sits stagnant for long periods of time is something most owners don't think about, and over time it can be harmful. Algae and other harmful bacteria love to grow in warm, stagnant water. When plumbing houses this water, and the equipment is not in use, algae and bacteria growth is pretty much a guarantee. According to Sal Paldino, Vice President of Pool Services Technologies, "individuals have called us complaining about the water looking cloudy: sometimes even having an odd odor."
According to Dr. Rita A. Moyes a microbiologist at Texas A&M, "All 43 hot tubs tested in a recent study showed evidence of bacterial growth ranging from mild to red-level dangerous." Typically, when individuals drain jetted hot tubs after each use it's believed that it drains everything but water always remains in the plumbing and will become stagnant quickly. The bacteria growth is extremely common in the home bathtub type whirlpools because the the water in pipes sticks around.
According to Paldino who has used Oh Yuk, "our jetted tub is rarely used; maybe thirty times in the last seven years. After using Oh Yuk! it was obvious that anybody who has a jetted tub should be using it. It ran in the tub for an hour, it removed and flushed the biofilm out of the pipes and pump. The material that had been removed could be seen, even after normal cleaning with standard tub cleaning products." This is also why Pool Services Technologies started carrying this product on its eCommerce Site. "It's simple to use and can be used in a variety of different circumstances, making it a great product to have not only at home, but also when there are jetted tubs on client properties. It is easy enough to use prior to using any jetted tub, whether at home or away " says Paldino.