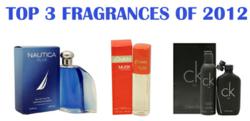 With a list of the biggest and best perfumes of 2012, 99Perfume will definitely make 2013, a revolutionary year.
Manalapan, New Jersey (PRWEB) January 15, 2013
With the New Year already starting up in full gear and 2012 becoming a blur, many shoppers cannot figure out where to begin their new shopping endeavors! 99Perfume.com, an online fragrance distributor, is proud to reveal the best selling perfumes of 2012. With designers like Nautica, Coty and Calvin Klein, 99Perfume is here to make ones shopping experience better than any other. Nothing is better than having access to the most loved perfumes and colognes right at ones fingertips!
With so many choices in the world of perfume, sometimes it's hard to figure out exactly what fragrance to search for. This list has been created in the hope that it will help shoppers find the scent they have always been searching for. With a list of the biggest and best products of 2012, 99Perfume will definitely help ease all perfume customers into the year 2013.
The following three products have outsold over 10,000 name brands to hold their spots as the top three of the year, and any one of these fantastic fragrances is sure to be a showstopper!
Nautica Blue Cologne by Nautica: Introduced in 2007, Nautica Blue is an enticing fragrance that combines cool marine notes with fresh spice and subtle woodsy tones, making it both sporty and stylish, a combination that is certainly hard to come by. This exhilarating product with its aquatic aroma is already a must have, but with the low price of $17.99, it cannot be beat!
Jovan Musk Perfume by Coty: Jovan Musk is a fragrance that has passed the ultimate test, the test of time! Introduced in 1972; Jovan Musk truly is a classic! This feminine scent possesses a blend of light musk and delicate florals, classifying it as a luxurious, gentle and floral fragrance. Designed for romantic wear this perfume is sure to make a heart skip a beat! Whether it is used for casual wear or a romantic night out, Jovan musk never fails to impress, and at their price ($14.99), this is sure to impress!
Ck Be Perfume by Calvin Klein: Calvin Klein introduced this perfume in 1996 with the hopes that it would become a hit, and he was right! Ck Be has women hooked on its refreshing aroma! This oriental, woody fragrance possesses a blend of musk with notes of mandarin, magnolia, peach and sandalwood. It is recommended for daytime wear. For their price of $32.99, Ck Be will become a staple in every woman's perfume collection!
With the best fragrances a company can offer , 99Perfume will make this shopping experience a successful one. Take 2013 to a whole new level; Nautica Blue, Jovan Musk and Ck Be are just what is needed! 99Perfume is offering a special 15% discount to anyone that purchases these items in the month of January.
Get flowered with the most loved scents of 2012 and start the New Year off right! Bring in the New Year with a best foot forward; or in this case a best fragrance forward!