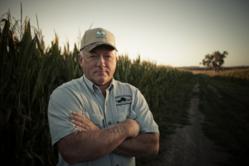 Our third place finish in the state of Iowa Corn Yield Contest is the highest we have ever placed.
Houston, TX (PRWEB) January 14, 2013
As the leader in plant performance technology, StollerUSA is excited to announce the 2012 Yield Contest Winners from the National Corn Growers Association. Progressive growers using Bio-Forge® and other plant performance technology from StollerUSA represent 13 states in the contest which is held each year to encourage today's farmers to push the envelope and produce record yields.
The 2012 growing season is a year to remember with a severe drought nationwide. Many were lucky to harvest a crop, but 14 growers entered in the 2012 contest turned to advanced technology from StollerUSA to manage stress and keep plants as healthy as possible throughout the season. The results are national and state winners from the East Coast through the Corn Belt and south into Texas. Each year progressive growers continue to put Bio-Forge and other yield-enhancing products from Stoller to the test, pushing yields higher even under stress conditions.
Growers in the following states were national and state winners using Stoller technology:

Georgia
Indiana
Iowa
Kansas
Kentucky
Minnesota
Missouri
New Jersey
New York
North Dakota
Tennessee
Texas
Virginia
"Our third place finish in the state of Iowa Corn Yield Contest is the highest we have ever placed," explains Dave Cunningham, Crop Manager at Amana Colonies, Amana, IA. "Bio-Forge helped us to grow an exceptional crop in one of the most stressful seasons ever."
Many contest growers known for producing world and national records continue to show their expertise. Progressive grower David Hula, 384.36 bu/acre again represented his state with astounding yields. Hula, who has had the top producing yield nationwide almost every year since 2000, did it again this year. The 384.36 bu/acre was at least 12 bu/acre higher than any other grower in the country.
"In today's market growers have to push yields beyond the traditional NPK practices to produce healthy, strong crops," explains Dr. Wayne Smith, General Manager of StollerUSA. "These contest growers recognize the need for innovative technology like Bio-Forge to help overcome the transient stress and maximize yields. Each year more and more growers are witnessing the success of the contest growers and are anxious to see results on their own farms."
About StollerUSA
Headquartered in Houston, Texas for over 47 years, StollerUSA is dedicated to helping producers enhance yields by maximizing genetic expression. Only Stoller products contain Stoller's proprietary technology that is proven to ensure optimum plant growth by maintaining appropriate hormone balance and activity. In combination with proper nutrition and good farming practices, the result is enhanced marketable yield, significant return-on-investment and improved stress tolerance. Validated by Universities nationwide, Stoller's unique formulations outperform traditional products and result in healthier, more productive crops that are better able to achieve their full genetic potential.